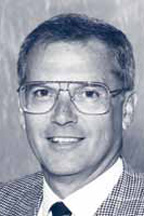 Gary W. Lyons '56 is the retired chief of Saint Vincent Health Center's Division of Thoracic and Cardiovascular Surgery.
Lyons studied at Penn State Behrend for one year before earning a degree in chemistry at University Park. While a student at University of Pittsburgh's medical school, he participated in an exchange program at University of London, studying with the famed vascular surgeon Dr. Charles Rob. After graduation, Lyons spent ten years at University of Minnesota, where he worked with Dr. C. Walton Lillehei, one of the first physicians to perform open heart surgery in the United States. In 1971, Lyons was recruited by Saint Vincent to return to Erie and build the hospital's first open-heart surgery program.
When he resided in Erie, Lyons was an active member of the Penn State Behrend Council of Fellows. He holds both Alumni Fellow and Penn State Distinguished Alumnus designations. In 1988, an endowed gift from Lyons allowed the college to purchase its first scanning electron microscope.
Lyons and his wife, Darlene Rumbaugh Lyons '57, are residents of Saratoga, Wyoming. They are the parents of four children: Dr. Mark Lyons, Steven Lyons, Susan Lyons Swahn, and Scott Lyons '92 M.B.A.