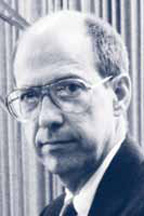 Albert L. Maxson '57 is a native of Girard. He attended Penn State Behrend from 1953 to 1955 before earning his bachelor's degree in business administration at University Park in 1957. At the time he was awarded the Alumni Fellow designation in 1986, Maxson, a CPA, was chief financial officer of Republic Airlines, Inc. That same year he helped negotiate and successfully complete the merger of Republic Airlines into Northwest Airlines. Following this, he became Northwest Airlines' vice president of financial planning in Minneapolis, Minnesota.
Previously, Maxson had been chief financial officer for Southern Airways, Inc. where, in 1978, he helped negotiate a merger with North Central Airlines that formed Republic Airlines. Following his retirement from Northwest in 1991, he spent eight months with Citizens Democracy Corps. in Russia advising Aeroflot Russian International Airlines. Subsequently, as chief financial officer, he assisted Great Lakes Aviation Ltd. to become a public company. Since 1997, Maxson has been a consultant, director, and/or investor in companies in the air transportation, aerospace, and computer hardware businesses. Maxson earned an M.B.A. from Georgia State University in 1973 and completed Harvard University's Advanced Management Program in 1976.
He and his wife, Linda, reside in Edina, Minnesota. They have three daughters.