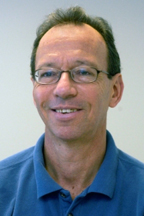 Alan J. Quinlan '76 is the 2004 Alumni Fellow for Penn State Behrend and was the honored guest at at campus ceremony on Thursday, April 21, 2005. Quinlan is president of Greenberg, Quinlan, and Rosner Research, Inc., a public opinion and research firm focusing on strategic consultation and issue management for organizations and political campaigns. He has played a formative role in shaping the company, pioneering the use of strategic polls, web surveys, focus groups, dial groups, advanced targeting, and tracking surveys. As a principal in GQR, he helps candidates campaign, win, govern effectively-and then win again.
In addition to providing strategic research and consultation to the Democratic National Committee, he advises a broad range of political candidates including Senate Democratic leader Tom Daschle and Senators Tim Johnson, Mary Landrieu, Chris Dodd, and Joe Lieberman. Quinlan has conducted research on education issues for the National Education Association, and he has worked with the W.K. Kellogg Foundation on leadership and economic revitalization issues.
A member of the American Association of Public Opinion Research and the Democratic Grassroots Action Institute and Network, he was named one of Roll Call's "Money 20: Consultants Who Make a Difference," and in August 2002 the Washington Post dubbed him "hip and now."
Quinlan began his higher education at Penn State Behrend, where he served as president of the Student Government Association. He graduated from Penn State in 1976 with a degree in community development and continued his education at the University of Massachusetts, where he earned a master's degree in public administration. Quinlan and his wife, Jeanette, have two children. They reside in Silver Spring, Maryland.