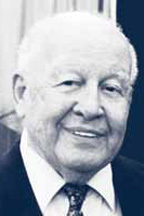 George R. Sample '46 was a journalist, longtime publisher, newspaper owner, and philanthropist. He was serving as publisher of the Corry Journal and chairman of the board of Sample News Group when he received the Alumni Fellow Award.
Sample created the family-run Sample News Group, which owns newspapers in several states, and was the longtime publisher of the Corry Journal, where he started working after graduation from college.
In the 1960s, Sample was one of the founders of what would become American Publishing Co., which was later sold to Hollinger International. He served as vice chairman for Hollinger's American Publishing Co. and was credited with making improvements to the Chicago Sun-Times and the Jerusalem Post. Sample's leadership is credited as being a contributing factor in the financial turnaround of the Chicago Sun-Times. In 1972, he was nominated for the Pulitzer Prize by the Associated Press for a series of editorials dealing with censorship in a local drug case.
Sample earned his bachelor's degree in journalism and was the managing editor of The Collegian while he attended Penn State University Park.
In 2001, Sample and his family established the Janet Neff Sample Center for Manners and Civility in honor of his late wife, Janet. He was a member of the Mount Nittany Society and the Glenhill Society. He is survived by their eight children, six of whom are Penn State alumni. They are Patricia Stetson '83, Kim Wiler '80, Janet Sample '76, Christine Jordan '68, David Sample '77, Michael Sample '89, George "Scoop" Sample III, and Susan Sample. George Sample passed away June 18, 2008, at the age of 84.