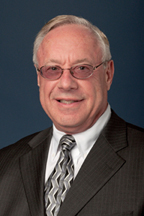 Samuel P. "Pat" Black III '64 is a chairman of Erie Management Group, LLC (EMG). EMG invests in and manages companies whose innovative products capitalize on economic opportunities within the Lake Erie region. Its portfolio includes Kold-Draft Industries, a manufacturer of commercial ice machine systems that produce a patented long-lasting ice cube, and HERO BX (formerly Lake Erie Biofuels), a BQ9000-accredited producer and marketer of biodiesel fuels. HERO's production capacity of 45 million gallons per year makes it one of the largest biodiesel plants in the northern United States.
As a social and environmental advocate, Black provides resources for related philanthropic ventures through the Black Family Foundation. Since 1994, the Black Family Foundation has promoted innovation across a range of the Erie region's compelling community issues, from educational excellence and health care disparity to workforce development and the arts.
Black is also founder and president of the Blackstone Ranch Institute. Located in Taos, New Mexico, the Blackstone Ranch Institute provides targeted seed money to catalyze social innovation in urban environmental sustainability, global carbon offset market growth, sustainable business practices, and the development of renewable energies and green employment.
Along with his wife, Susan, Black purchased 191 acres of pristine grassland in the Taos Valley to develop and demonstrate best environmental practices for sustainable ranching and farming. The infrastructure of Blackstone Ranch preserves the rich history of northern New Mexico by continuing to use an ancient acequia—Spanish for "water conduit"—to bring scarce water to lifestock and pastures, while also taking advantage of modern solar, wind, and geothermal technologies that minimize outside energy dependence.
Black is a member of the Elm Circle, Mount Nittany Society, and Glenhill Society and is a life member of the Penn State Alumni Association. He and his wife live in McKean, Pa.