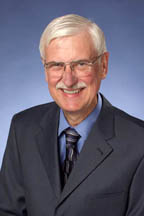 William C. Witkowski '67 was honored as the 2005 Alumni Fellow for Penn State Behrend at a campus ceremony on Tuesday, October 4, 2005.
Mr. Witkowski was the owner, chairman, and CEO of Port Erie Plastics, Inc., a manufacturing business located in Harborcreek, PA, and owned by his family for more than 50 years. He succeeded his father as president of the company in 1978 and continued as chairman and CEO, with the third generation of family members actively involved in the company's management and success. Under his direction, Port Erie Plastics grew from its beginnings in a small building with one injection molding machine to today's modern 500,000-square-foot plant with 77 injection molding machines and 600 full-time employees.
Mr. Witkowski began his academic career at Penn State Behrend and earned a bachelor of science degree in industrial engineering in 1962. In the mid-1980s, he took an active role in initiating and developing Penn State Behrend's plastics engineering technology program, and in 1996 he was present when the Witkowski Building was dedicated as part of the college's Engineering Complex (now Science Complex). He was also a longtime member of the Plastics Engineering Technology Industrial Advisory Board.
His support extended to the hiring of Behrend graduates. Port Erie Plastics has long hired graduates and interns from Behrend's plastics program and encourages employees to continue their education at the college. The company also partnered with Penn State Behrend's Plastics Technology Center to design a recycled plastic pallet that has become one of the company's signature products.
Mr. Witkowski was a member of Penn State Behrend's Council of Fellows and, with his wife, Jean, recognized as members of the President's Club, the President's Club Circle of Pride, the Glenhill Society, and the Mount Nittany Society.
Mr. Witkowski passed away on Tuesday, December 7, 2021. He is survived by Jean, their four children, 10 grandchildren, and several great-grandchildren.