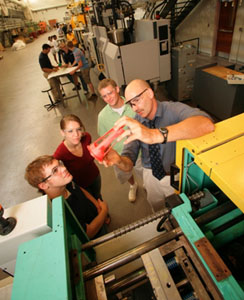 The Plastics Processing Lab, located in 127 Burke, is a multi-million dollar state-of-the-art processing lab. This lab is the largest and best equipped undergraduate processing lab in the nation.
All major plastic conversion processes are represented in the 10,300-square-foot facility.
Other secondary and peripheral processes, such as decoration and assembly methods, are also represented here, along with automation and testing equipment.
This lab emphasizes an educational focus, namely the practical application and integration of new technologies in Design, Processing, Materials, and Tooling. In addition to computer skills, the foundational skills of processing, materials, and design are stressed as central to creating a great plastics engineer.
Check out the photos below or view a 360 panorama of the plastics lab on our virtual tour.