Important Information
RE: "Satisfactory/Unsatisfactory" Option for Current Pre-Health Students
Penn State University's Pre-Health Advising Team encourages Pre-Health students to "continue to work toward strong quality (letter) grades in their prerequisite courses" rather than select the "Satisfactory/Unsatisfactory" option. 
Read more about COVID-19 Recommendations for Current Pre-Health Students.
Pre-Health Professions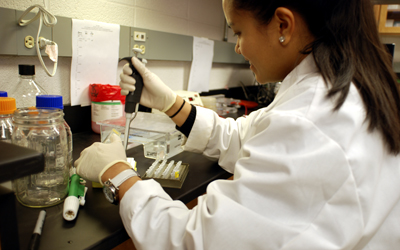 Health professions such as medicine, physical therapy and pharmacy are some of the most in-demand careers in today's world. Penn State Behrend prepares you for these careers through strong science programs taught by dedicated and engaging faculty.
Although some institutions offer a specific "Pre-Medical" degree, applicants with an undergraduate degree in a science discipline have higher admission rates to medical and other health-related professional schools. Biology and chemistry are among the possible majors for students interested in a career in healthcare. Within these majors, students can further tailor their curriculum by choosing the option that best fits their career goals and interests. Students can also strengthen their resume by participating in undergraduate research with faculty who are internationally recognized in their research fields. The strong background you receive at Penn State Behrend will also prepare you for alternative careers should your career objectives change over the course of your studies.
Occasionally, there are Pre-Health events at Penn State Behrend that are geared toward students in the Pre-Health program or students pursuing degrees in the medical fields. Check out a recent event on the Behrend Blog, "Pre-Health students sew first stitches in medical career."
Health Professions Preparation Programs
Although most students interested in health careers finish their degrees at Penn State Behrend, we also offer special accelerated and early admissions programs for health-related professional schools. These programs target exceptionally motivated students who meet specific admissions criteria. The accelerated programs allow you to attend Penn State Behrend for three years and complete the undergraduate degree in biology during your first year in professional school.
Special Pre-Health Programs
Resources
Accelerated Program applications are due no later than January 15, 2022, for the Fall 2022 academic year.