A Penn State Behrend student investment team competed in the regional CFA Institute Research Challenge in Pittsburgh on Monday, Feb. 17. The students defended their market valuation of PPG Industries, a global supplier of paints, coatings, optical products and glass.
The team recommended a hold strategy at a PPG stock price of $188.56.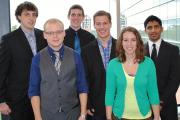 PPG operates in more than 70 countries. The company, which has significant cash reserves, has more than doubled in size over the last decade, in part by buying other brands.
"Their strength is in their ability to move quickly," said Chris Dall, a senior from Erie. "When another company becomes available, PPG is there first, with a cash offer."
Dall and his teammates – Adrian Pinto, of Erie; Jainik Mody, of Mumbai; Kyle VanDusen, of Tioga; and John Fetchko, of Sarver – each spent more than 200 hours preparing for the competition, which is considered "the investment Olympics" for university students.
"It's been every night," Pinto said, "sometimes for 20 hours at a time. This is by far the most comprehensive additional learning experience I've had here."
The competition, which is sponsored by the Chartered Financial Analyst Institute, gives students a taste of the real-world experience that is required to work as a security analyst. The Penn State Behrend team worked closely with a Pittsburgh-based analyst to produce its valuation and financial report.
"They did analyst-level work, and their report showcases it," said Greg Filbeck, professor of finance and Samuel P. Black III chair in finance and risk management at Penn State Behrend. "This experience is invaluable as they enter the workforce."
Students from Carnegie Mellon University, Duquesne University, the University of Pittsburgh, Washington and Jefferson University, Indiana University of Pennsylvania and Penn State's University Park campus also participated in the competition. The judges – members of the CFA Society of Pittsburgh – scored them in two areas: the 10-page written analysis and a 10-minute oral presentation.
The University Park team won the event. They will compete again in Denver in March, at the CFA regional finals.