Michael A. Woycheck '97, who was the Farewell speaker at the commencement where he was awarded a B.S. in Management Information Systems, gave the Commencement Address at the December 16 ceremony in Junker Center.
Woycheck is operations director at Alloy 26 in Pittsburgh, Pennsylvania. This Faros Properties-owned co-working space is part of Nova Place, a multi-million-dollar urban redevelopment of the former Allegheny Center shopping mall. Currently the second-largest urban revitalization project in the United States, Nova Place is intended to reconnect the North Side to downtown Pittsburgh.
Before joining Faros Properties in 2015, Woycheck was a partner operations manager at Google, where he worked with Fortune 500 retailers to optimize and deliver data to their shopping properties. His responsibilities included release management and product assurance for software that processed millions of transactions per day.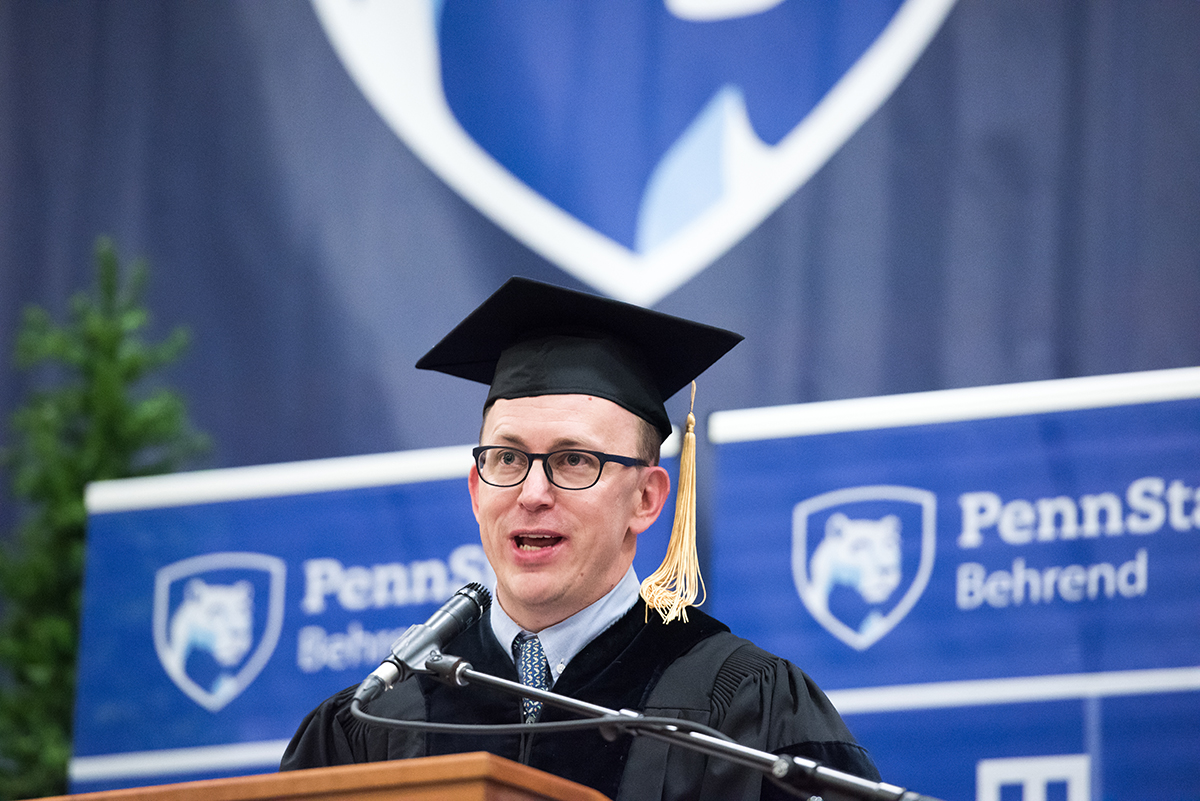 Distinguished faculty and staff, parents, families, alumni, and soon-to-be fellow graduates, it is truly an honor to be back at my alma mater to have the opportunity to speak to you this evening.
Almost nineteen years ago, I was sitting in Erie Hall waiting to cross the stage with anxious anticipation toward my future. Had I known I'd be back here two decades later giving another commencement speech, I would've taken notes to help me better prepare for this occasion. Lesson #1: Just because you're graduating, don't stop taking notes. This could be you some day.
Class of 2016, sincere congratulations on this milestone accomplishment! Your reward is a diploma as well as a bounty of opportunities that lie before you. Some of you are leaving here to continue your education. You may be taking time to travel. You have accepted or are considering a job, or spending some time with a volunteer organization, or you might be heading home and wondering what the next step will be.
Whatever your situation, consider and evaluate the opportunities that are right in front of you, as well as the ones that you may have to dig a little deeper to uncover. Some may be risky. Some may be abundantly fruitful. Some may downright scare you.
Your life story will be told by the opportunities you take advantage of and the ones you elect to pass on. If you should elect to not seize an opportunity, do so for the right reason. I want to share with you a story about the ghost of chances past and opportunities I missed out on due to fear.
I was a quitter.
In 1994, while a student here at Behrend, I was accepted into the White House Internship Program. However, I never set foot in the White House, leaving D.C. in the middle of the night, before the program even started. A year later, in my first campaign, I ran for and was elected SGA president. As I took the helm when the new school term started, I resigned.
Now, I tried rationalizing my decisions, that the unpaid internship made the D.C. stay very expensive or that my change of major and class load were too much to manage and be a successful president. While these reasons held a kernel of truth, honestly I was making excuses.
The real reason was that I was afraid. Afraid of the unknown and what I believed was my inevitable failure.
After graduation I started my first job, with remote training in the dead of winter in Lisle, Illinois. And I was scared. Not just scared: I was in-a-hotel-room-laying-in-bed-world-closing-in-heart-palpatations-from-anxiety scared. Fear can be crippling, and I almost gave in again to despair.
I'm speaking about these experiences for the first time publicly because at some point, whether it's now or perhaps in future, you may struggle with your own toxic mix of uncertainty and self-doubt. You DO NOT have to let fear take your desired opportunity away from you, as I once did. If you allow it, it will rob you of a path that will never be taken and have you ask yourself two very terrible words, "What if?"
An anonymous author once wrote, "Feed your faith and your fears will starve to death." The unknown grants fear tremendous power. Through the help of friends, family, therapy, and the incredible resources of this University, I was able to renew faith in myself. I stayed with that job and took each moment one at a time, focusing on learning as much as I could to use information to flush away the uncertainty.
With each successive day, I realized my fears were unwarranted and an illusion. I've been blessed since the day in that hotel room with a successful career, but fear still pays a visit from time to time. Now it is like a divining rod, helping me know if I'm exploring the right opportunity.
The entrepreneurs I've had the honor of working with provide regular inspiration. These are people who brave eighty-hour weeks, finance their business with personal debt, forgo a paycheck and pay their employees before themselves, all the while living daily with the prospect that their dream will go unrealized. When you feel fearful, draw inspiration from those closest to you, from those who inspire you, and from your time at this University. Then fear will have no hold over you, giving you the chance to seize any opportunity you wish.
You are in a unique position to be influenced and to be influencers. The ubiquity of social media and your familiarity with it give you powerful implements of expression. A single tweet or video can now can inspire a movement. Wield those tools for good. You have an opportunity to learn more from gender, ethnic, and cultural diversities than ever before. Research has proven time and time again we are a more successful, more empathetic, and more compassionate society when we seek out and support diversity. We can only gain from challenging our perspectives and opening our minds to learn from differing perceptions. These are but a small number of ways for you to influence and improve our world.
2016 has been a year. For a multitude of reasons, but none more important to you than this is the year you graduate and you start to leave your mark on the "real" world. Find your passion and let it lead you; it's your greatest opportunity to find your true potential. You only have to look at some of your predecessors for inspiration.
[Behrend graduate] Mary Lawrence turned her love of space, discovered while watching "Apollo 13," into becoming a flight director for NASA and, you know, she just directs the operations of the International Space Station. George Dodworth started his entertainment light show business by building a laser in on-campus housing. I would have really liked to see his RA walking in on that. As a senior innovator at Nike, Tiffany Beers actually went back to the future by creating self-lacing sneakers.
Making your passion a reality isn't the hardest part. That comes naturally. Discovery of what it is is the true challenge. This is prime time to discover your passion. You're at Peak Optimism. You're feeling like you can find parking at Reed with Police and Safety nowhere to be found. Slowly, that positive energy can slide toward cynicism, life's version of a Twitter troll. Cynicism is that slow twist of the knife driven by the hand of time. It wears you down to make your thoughts more rigid and attitude more complacent. One way I've found to ward off being cynical is to volunteer to teach skills or offer help where I can have an impact. Whether it's been helping a young person with a technical skill or an entrepreneur just getting underway with their business, their wild-eyed enthusiasm is beyond contagious. This is an elixir that is sustaining.
You are about to become the stewards of this world and the paths you choose can make this a better place for all of us. Bring your fire and your energy that you carried here at Behrend to all that you do and I have no doubt we will be in good hands.
The philosopher Buckaroo Banzai once said, "Wherever you go, there you are." The car is packed, the engine's running. You just need a route to travel. Don't worry— your family, your friends, and this college were kind enough to pack you a lunch.
Congratulations once again, Class of 2016. We believe in all of you.