With Mickey, Indy, Mojo and Dottie moved to the yard, Isaiah Boswell had his choice of empty kennels. He started on the right, brooming cobwebs off the tops of the chin-high walls.
"Oh, man," he said, coughing. "That's nasty."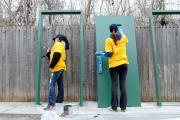 Boswell, a junior from Verona, had never before been in a pet shelter. He'd come to this one – the nonprofit ANNA Shelter in Erie – with more than 60 students from the Sam and Irene Black School of Business. For two days they painted, landscaped, replaced doors and washed dog bowls and bedding.
"It's changed my whole view of animal adoptions," Boswell said. "I just keep thinking, 'What if my dog was in here, shivering?'"
The project, which began Saturday, April 26, was part of a semester-long effort by Mary Beth Pinto, professor of marketing, and Phylis Mansfield, associate professor of marketing, to create off-campus service opportunities for students at Penn State Erie, The Behrend College. Both led up to the work with classroom assignments that explored buyer behavior and sustainable marketing strategies.
"One of the things we know from the literature is that students learn best by doing," Pinto said. "This takes them out of the classroom. It shows how the different theories can be applied in a real marketplace."
Pedigree Food for Dogs, the world's largest dog food brand, funded the ANNA Shelter work, which cost approximately $10,000. GreaterGood, a web-based charity that supports shelter animals and pet-vaccination programs, coordinated the on-site renovation efforts.
Pedigree also supplied dog food at no cost to both the ANNA Shelter and the Humane Society of Northwestern Pennsylvania. That effort began in 2013 as part of the Pedigree Feeding Project.
Chris Shearer, a senior finance manager at Mars Petcare, makers of Pedigree, helped steer both projects to Erie. He's a 2002 graduate of Penn State Behrend.
"Every year, about four million dogs go into shelters," Shearer said. "A little bit of love, a little extra attention and some good food can make a real difference in their lives."
For the students, who spent much of the Saturday lunch break playing with Felix, a pit bull-terrier mix, the shelter project was not entirely about the dogs. New paint and fresh bedding doesn't much impress a stray. But it might bring more people into the shelter, and that can lead to more adoptions.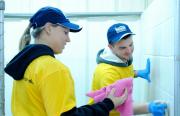 Brittany Martinelli better understood that, seeing the shelter for herself.
"If you just read about something in a book, or you sit in class, taking notes, you aren't getting everything you can from it," Martinelli, a senior from Mars, Pa., said. "But if you go out and actually do it, and you see that maybe you can make a difference, that's a lot more rewarding. That's something that stays with you."