Penn State Behrend is funding more than $53,000 in undergraduate research this fall. Students from more than 30 majors are participating in the studies, working directly with faculty mentors.
Biology students will begin a four-year effort to catalog insect species collected on the 854-acre Penn State Behrend campus. DNA samples will be extracted from each insect and shared with the Biodiversity Institute of Ontario, where DNA barcodes are used to improve species discovery and identification.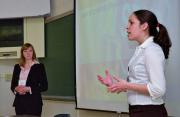 Engineering students will fit sensors that measure gait into running shoes. The data collected by the sensors will be used by researchers at the University of Hartford in Connecticut to improve posture and movement by athletes and to reduce sores among patients who are diabetic or overweight.
Psychology students will investigate whether dog owners are predisposed to adopt animals with similar facial characteristics, which might explain why people so often resemble their pets.
Faculty-guided research is a vital component of the undergraduate experience at Penn State Behrend. The college provides funding for research studies and travel grants each year, and students present their work at an annual conference that is open to the region's other colleges and universities.
"Through undergraduate research, students have the opportunity to work more closely with faculty members," said Bob Light, senior associate dean for research and outreach and chief operating officer at Penn State Behrend. "They can publish their results in scholarly journals, present their research at regional and national conferences and gain admittance to more prestigious graduate programs."