Sometimes 1 mile can be 1 mile too far.
It was only 1 mile that separated Cybersonics Inc. from Penn State Behrend in 2009, but according to Jeff Vaitekunas, vice president of research and development at Cybersonics, being located across the highway from the University just wasn't cutting it.
"I looked across that street, and when I saw those buildings I knew there was a great opportunity," he said.
Vaitekunas had spotted Knowledge Park at Penn State Erie, a state-of-the-art facility bringing students, faculty and staff together with forward-thinking companies in the spirit of advancing technology.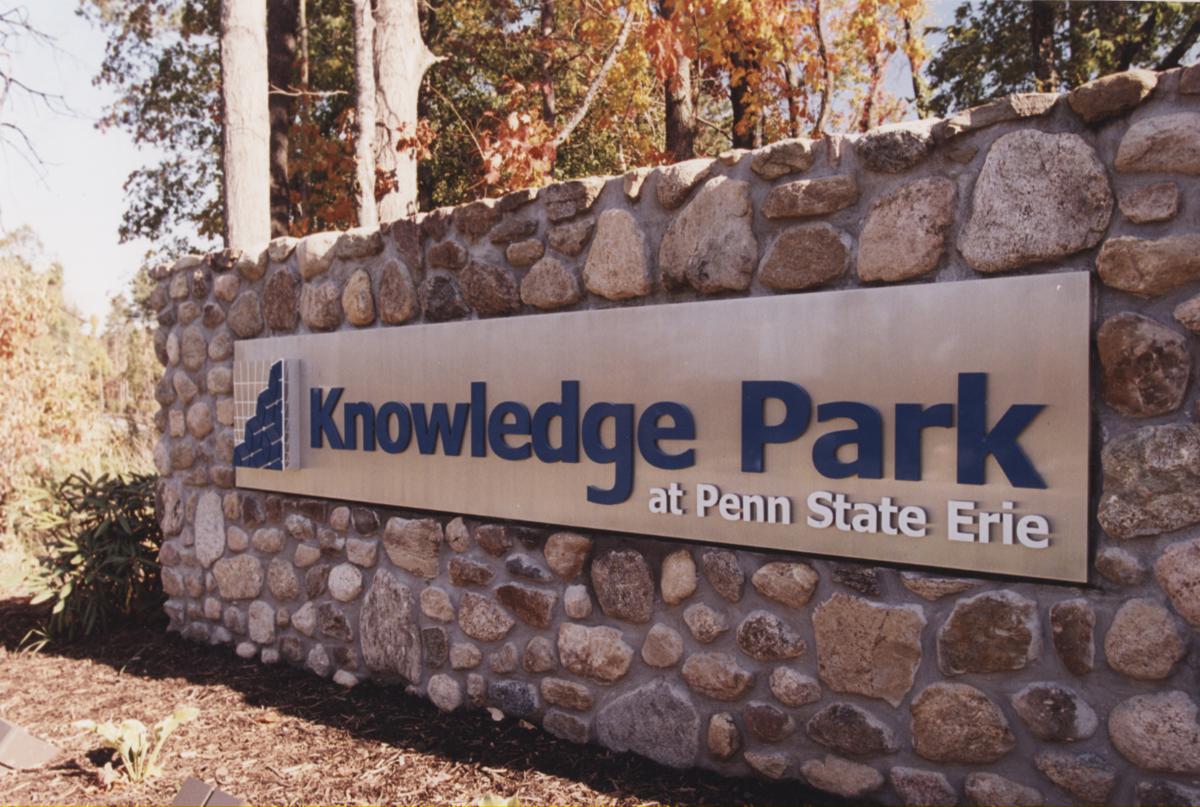 Built in 1998, the core idea behind Knowledge Park was and is to create a facility that attracts companies in the surrounding area to collaborate with the University on technology projects, said Ralph Ford, director of the school of engineering and associate dean for industry and external relations for Penn State Behrend.
"We always wanted a place for collaboration, where companies could be physically located close to the University," said Ford. "Knowledge Park is directly adjacent to campus — when you exit the back of our engineering building, you're basically there."
And that's just what Vaitekunas was looking for. Cybersonics, a company that focuses on the design and development of ultrasonic products for the medical industry, experienced such exponential workforce growth from 2009 to 2014 that it was in desperate need of a larger facility. That's when Vaitekunas peered across the street.
For Vaitekunas, the opportunity to move Cybersonics into newer, larger office space that close to campus was a no-brainer. "The minute I toured the facility I was impressed," he said. "We had already collaborated with Penn State on several projects by then, and that really just cemented our decision to move to Knowledge Park. We're so pleased to be here."
One of those collaborations was a lithotripter, a high-powered therapeutic ultrasonic device that removes large kidney stones. Using ultrasonic energy, the device breaks up kidney stones and painlessly extracts them from the body. Cybersonics was looking for a specialist to support the project, and Penn State was there to help.
"We wanted to do some durability studies relative to steam sterilization for the lithotripter," said Vaitekunas. "It turned out that a faculty member at Penn State Behrend was working with that very equipment, so we met with the University and hired him as a consultant for the project. The lithotripter is now widely used in the medical community."
According to Ford, that type of collaboration is what attracted many of the 20 companies now residing in Knowledge Park.
"Many companies that end up in the park have a connection to us," said Ford. "We've collaborated with them on projects, or there's an alumnus who now works for the company who's heard about Knowledge Park — both often lead to a lasting relationship."
To foster even more relationships, Penn State Behrend is also working with the Greater Erie Industrial Development Corp. (an affiliate of DevelopErie), which identifies companies that would like to move to the Erie County region for economic development and are also interested in the same technology initiatives as Knowledge Park promotes.
"Partnering with DevelopErie has been amazing," said Ford. "We've been able to bring in companies that benefit not just the University, but Erie County as well. It's a win-win all around."
Cybersonics is only one of many companies to relocate to Knowledge Park. Since the facility opened, such companies as SKF Aerospace NA, CMI Energy, Indeck Keystone Energy and General Electric Transportation, a unit of technology giant GE, have taken up residence in the park's five buildings.
So five buildings aren't enough anymore. With office space at almost 100 percent capacity, a sixth Knowledge Park building is on the way. The Advanced Manufacturing and Innovation Center, a two-story, 60,000 square foot-building planned for completion in the fall, advances Penn State Behrend's open lab environment initiative, a key component of the park's mission.
Amy Bridger, director of research and business development for Penn State Behrend, said the open lab environment helps enrich student, faculty and staff experiences at Knowledge Park by making the University's intellectual resources available to external companies.
"Open lab is an environment we cultivate to open up our resources — both people and laboratories — so students, faculty and staff can engage with industry for research and business development collaboratively," said Bridger.
In the past year, Penn State Behrend expanded Knowledge Park's open lab concept to other higher education institutions in the region as well as continuing to grow the idea throughout Penn State.
"This open lab concept is eye-opening for people," said Bridger. "We're willing to work with them to take an idea from concept to prototype and bring it close to production."
And at a time when economic growth is a constant concern, collaborations among Penn State and forward-thinking companies foster the opportunity to increase economic activity in the region.
"Knowledge Park helps companies in the region stay competitive because they are able to leverage a major research university in both applied and fundamental research," said Bridger. "We're able to bring economic activity into the region that wouldn't be here if Penn State wasn't here."
This story was reported by Jennifer Struble, a writer in Penn State's IT Communications.