A student investment team from Penn State Behrend offered a "buy" recommendation for Black Box Networking Services, a top provider of voice and data networks, at the 2015 Chartered Financial Analyst Institute Research Challenge in Pittsburgh.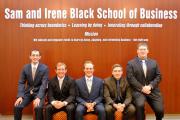 The team – Conor Chadwick, Andrew Dylewski and Josh McAleer, of Erie; Ryan Mitcheltree, of Moon Township; and Brad Prosper, of Aliquippa – proposed a one-year target price of $35.99 for Black Box. The company's stock closed at $21.81 on Feb. 23, the date the team submitted its report.
CFA research teams are judged on their ability to value a stock and argue for a buy, hold or sell strategy. They consult with professional analysts while developing their financial reports.
A team from the University of Pittsburgh won the competition, advancing to a regional event in Atlanta. Teams from Carnegie Mellon and Robert Morris universities, Washington and Jefferson College and Penn State's University Park campus also participated.
The CFA Institute started the global research challenge, which is considered the "investment Olympics" for university students, in 2006. More than 3,700 students from 58 countries participated in the 2014 competition.
Preparing for the event is an example of "learning by doing," a guiding theme of the Black School of Business at Penn State Behrend, said Greg Filbeck, the team's adviser.
"Team members conduct research, develop an equity valuation report and present their findings in a framework equivalent to an equity analyst," said Filbeck, professor of finance and the Samuel P. Black chair in finance and risk management. "In the process, they develop a portfolio showcase that enhances their marketability and access to job opportunities with top security analyst and investment banking firms."
Team members spent approximately 150 hours preparing for the competition, sometimes studying until 1 a.m.
"We spent a lot of hours on this," Mitcheltree said. "It really brought everything we learned in our classes into one report."
The students received no course credit for the effort. The experience will give them an advantage, however, as they interview for jobs in finance.
"You have to be willing to go beyond what's expected of you in class," Chadwick said. "This shows that we're willing to work with other group members to go after a common goal."