Fast Company, a magazine that showcases business, technology and design, includes the Advanced Manufacturing and Innovation Center project at Penn State Behrend in a new story about campus innovation.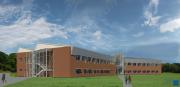 "This learning model will promote collaboration between academia and industry, offer students real-world experience and support the growth of manufacturing in the region," according to the story, which appears on FastCompany.com. You can read the full piece here.
Innovation centers at Texas Christian University, Iowa State University and the University of Utah also are included in the story, which was written by Brad Lukanic, executive director of CannonDesign's global education practice.
"These centers focus on multi-disciplinary inquiry that can foster partnerships with industry and fully leverage available grants and funding for research," Lukanic wrote. "Advancing these new models can help universities recruit fresh talent, establish new partnerships for success and promote an environment where emerging leaders can explore the complex social challenges of our time."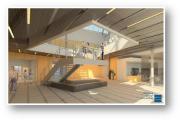 The $16.5 million Advanced Manufacturing and Innovation Center will provide additional space for Penn State Behrend's School of Engineering, which has more than 1,400 students. Eight classrooms and 25 faculty offices will be located in the building, which will open on the south side of Technology Drive, near the Jack Burke Research and Economic Development Center, later this year.
Industrial tenants will occupy nearly half of the new building, where shared research space will encourage collaboration with Penn State Behrend students and faculty members. That will advance the college's 'open lab' initiative, in which business leaders, faculty members and students engage in research and development as teams.