Process and Data Automation, an Erie-based engineering and data-services firm, will relocate to Penn State Behrend's Knowledge Park this spring. The company, which provides full-service industrial control systems for the food and beverage, metals, pet food and wastewater industries, withdrew a bid to purchase the vacant Ridgefield Elementary School in November.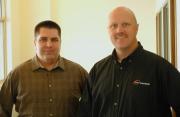 The company will occupy a 6,500-square foot suite in Knowledge Park, a partnership of Penn State Behrend and DevelopErie. It plans to annex an additional 2,500 square feet of office space later this year, when construction of the college's Advanced Manufacturing and Innovation Center is completed, further expanding Knowledge Park.
As part of the initial move, the company will create a programmable logic controller (PLC) training center. PLCs are industrial computer control systems that continuously monitor devices to automatically control operations. They are commonly used on assembly lines, commercial lighting systems and amusement park rides, among other applications.
The training center will be connected to a Penn State Behrend automation lab. The college has expanded its own PLC initiatives in recent years, offering courses to meet industry demand for graduates with PLC experience.
"The connection between Penn State Behrend and Process and Data Automation has existed since our inception," said Joseph Snyder, president of Process and Data Automation. "We have built our engineering core largely with graduates of their electrical engineering and electrical and computer engineering technology programs. As we have expanded, so too has this relationship, with the addition and growth of our intern program and sponsored senior design projects.
"We are excited about this next step in the evolution of our partnership with Penn State and are confident that this will pay huge dividends to our staff, their students and our clients," Snyder said.
Process and Data Automation, founded in Erie in 2002, is a CSIA-certified industrial control systems integration firm and a solution partner for Rockwell Automation, GE Intelligent Platforms, Wonderware, Siemens and Schneider Electric. The company is committed to local education: It has been a long-time member of the engineering advisory boards at Penn State Behrend and at various local technical schools. Through its work with local manufacturing education initiatives, the company participated in TechFest 2014, a two-day event with more than 200 students from high schools in Erie and Crawford counties.
"Process and Data Automation is a forward-thinking company that understands the value and relationship of supporting education and research," said Ralph Ford, associate dean for industry and external relations and director of Penn State Behrend's School of Engineering. "We have had a long and productive relationship with PDA and look forward to their continued growth in Knowledge Park."
Process and Data Automation is the second Erie company in as many years – Cybersonics Inc. is the other – to move its entire operation to Knowledge Park in order to have better access to Penn State Behrend faculty members, students and labs. Those moves advance the "open lab" initiative at the college, in which business leaders, faculty members and students engage in research and development as teams.
"We are excited to welcome Process and Data Automation to Knowledge Park," said Katrina Smith, president and CEO of GEIDC. "With the attraction of PDA and the expansion of existing tenants, we are nearly at full capacity. We remain in active conversation with several companies showing interest in the benefits of the open lab concept.
"Knowledge Park is realizing its potential of being an economic engine in the region," Smith said, "and we're excited to continue this with the opening of the Advanced Manufacturing & Innovation Center later this year."