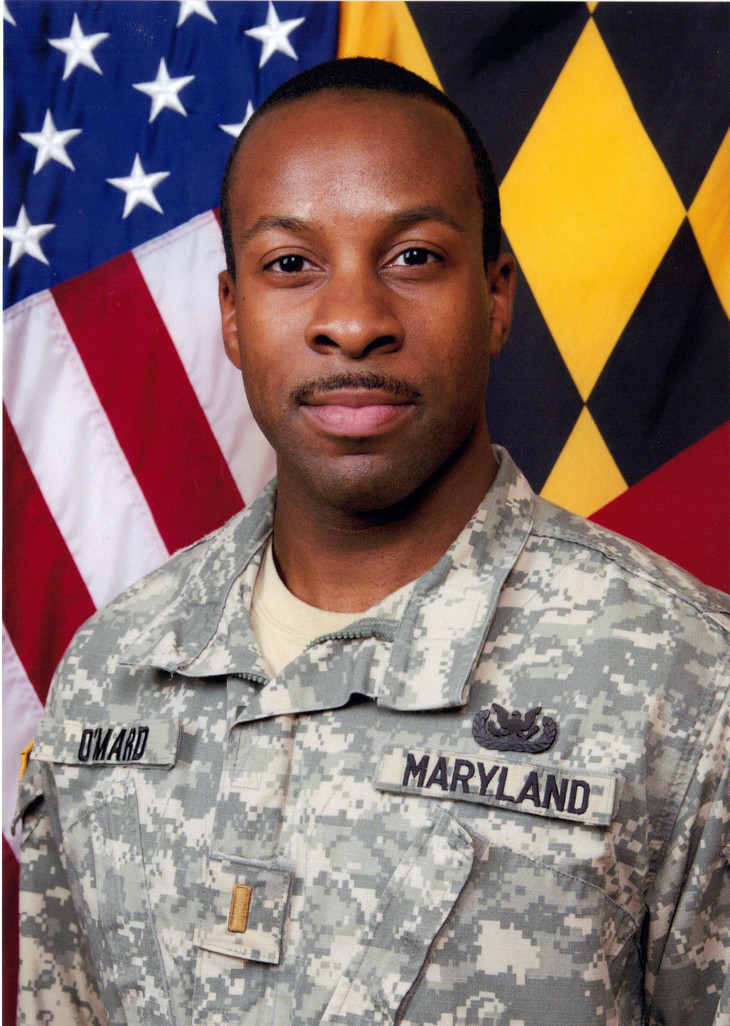 Jeremy O'Mard was just 10 years old when the planes flew into the twin towers in his hometown of New York City on 9/11. Like millions of other Americans, the event altered the course of his life.
"It really hit home because my brother was a police officer, and we were attacked on our home soil," said O'Mard, a 2013 graduate of Penn State Erie, The Behrend College. "I knew then that I wanted to find a way to help others and give back to my country when I got older."
He participated in JROTC and Civil Air Patrol while in high school, but after graduation, he chose to go to college instead of entering the military.
"I didn't really know what I wanted to do with my life and, honestly, I'd gotten used to the comforts of civilian life."
A fortuitous misunderstanding
He ended up at Penn State Behrend by accident.
"I was accepted at University Park, but was confused by how the campuses were set up, so I chose Erie, thinking it was an area of U.P.," he said with a laugh. "When I visited Behrend, I fell in love with the campus and decided to stay."
O'Mard majored in management information systems (MIS), because the blend of technology and business appealed to him.
"I liked computers and technology, but I'd always had a business mindset, so MIS really captivated me," he said.
Mixing business and service
Today, O'Mard, who also earned a minor in operations and supply chain management, works full-time as an Oracle business intelligence developer at IBM in Washington, D.C.
He also has found a way to give back.
Since his freshman year in college, O'Mard has been a volunteer in the Maryland Defense Force (MDDF), a uniformed military agency established by the state of Maryland to provide professional, technical and military support to the state's National Guard and Emergency Management Agency.
"When I returned home to Maryland after my first year at Behrend, I was looking around online to see if I could find anything I might do that summer to supplement my MIS major and I stumbled upon the MDDF's Information Technology unit and saw they needed volunteers," he said.
After initial training, he began helping the MDDF by providing tech support, troubleshooting hardware and software problems, and working on ad hoc problems.
Quick climb up the ranks
His role in the MDDF steadily increased. He was a visible member of the MDDF Information Technology team, participated in training sessions and headquarter drills, and served on the honor guard for military funerals.
In just four years, O'Mard rose to the rank of 2nd lieutenant and is now the commanding general's aide-de-camp (personal assistant to a person of high rank). He estimates he volunteers about 20 hours a month.
His peers and superiors speak highly of him, complimenting his leadership skills, positivity, professionalism and dedication to the MDDF.
Soldier of the Year
In December, they backed up those words with an official award. O'Mard was chosen to receive the Maryland State Guard Association's Soldier of the Year award for his "exceptional leadership, motivation, military bearing, dependability, and loyalty to the mission of the MDDF, the Maryland Military Department, and citizens of the State of Maryland."
O'Mard, who was surprised by the honor, said it was both humbling and inspiring.
"I know I do a lot for the MDDF, but I know many others who do, too, so I was very humbled to be chosen," he said. "It definitely puts things in perspective and makes me want to have an even stronger year this year."
Best of both worlds
If O'Mard likes the military life, why not make it his career?
He said he enjoys his job at IBM, which offers him myriad opportunities to challenge himself, learn and advance at the company.
"I feel like this is perfect for me," he said. "I can maintain the civilian life I want and still be in the military. It's the best of both worlds."