With the bed made and the clothes folded away – thanks, Mom – the Class of 2019 turned to posters and trophies and throw rugs and Keurigs and bubblegum-colored rubber rain boots, all of which said: This is who I am.
The class is one of the largest, most diverse and academically advanced groups ever to enroll at Penn State Erie, The Behrend College: 1,245 students from 26 countries, including China, Vietnam, Somalia and the Maldives. The students come from 30 states, districts and territories, including 50 of Pennsylvania's 67 counties.
Many are living on campus, navigating independent life for the first time. On move-in day, they carried with them tokens from home: a keepsake photo, a stuffed animal, a lucky baseball cap.
Here are a few of our new students, talking about the items that matter most to them: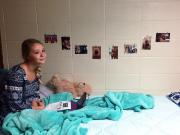 Payton Kline, of Bradford, wants to keep part of home close to her each day. Photos of family members and friends line the wall above her bed.
Billy Santoro, of Totowa, N.J., considers himself a poet. His method of creating that poetry is through his guitar. "Poetry and songwriting are kind of an escape for me," he said.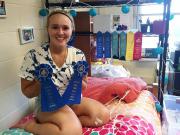 Kahlei Detmer, of Bethel Park, brought her prize ribbons from her barrel-racing days with the Silver Saddles Family Horse Club. She left the horse, Korra, at home.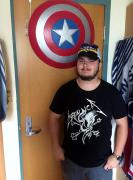 Jim Kiss, of White Oak, brought his Captain America shield. "It's a shield, not only of a superhero that I love, but it kind of represents (my personality) as well," he said. "I'm not afraid to bunker down and take a hit."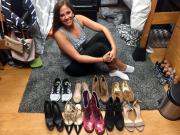 Gabby Levy, of Pittsburgh, loves shoes. She brought roughly 100 pairs. Thankfully, someone already warned her about Erie's snowy winters: There are some boots in there, too.
Quentin Holmes, of Erie, brought a T-shirt commemorating his time playing football for Erie's Cathedral Preparatory School. Football is his passion. "I really like the (Pittsburgh) Steelers and the (Baltimore) Ravens," he said. "I know they're rivals, but they're both really good teams, so that's why I like them."
Rachael Kollar, of Latrobe, brought plenty of items from home, but her new bedspread might be her favorite. "It's a lot like me," she said. "It's simple, but with a pop of color."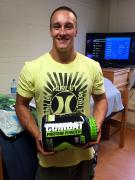 Blake Bachner, of Freeport, looks forward to the independence that comes with college life. "I'm living on my own," he said. "That's new and exciting." And the Combat Protein Powder? "It's really good. It tastes a lot better than you'd think."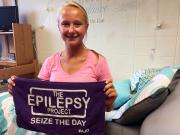 Joanne Bruce, of Millcreek Township, brought a spirit towel honoring Alyssa Josephine O'Neill, a former classmate who was a Penn State Behrend student at the time of her death in 2013. "I cheered with her," Bruce said. "She was my friend, and I'll never forget her."