Five students will represent Penn State Behrend's Black School of Business at the 2016 Chartered Financial Analyst Institute Research Challenge. They will produce a detailed financial report and valuation of Dick's Sporting Goods, the nation's largest sports apparel, footwear and equipment retailer, and present their findings to a panel of high-profile financial analysts.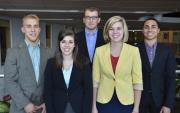 The team – Drew Barko and Kelsey Schupp, of Erie; Samantha Chiprean, of Wattsburg; Eric Frei, of Poulsbo, Wash.; and Ricky Grullon, of Ridgewood, N.Y. – already has begun to research the company, which has 619 stores and is worth approximately $7 billion.
"The first step is to get to know the business and its competitors," Frei said. "Then we'll dig into the financials and see what the company is really made of."
The CFA Institute started the global research challenge, which is considered the "investment Olympics" for university students, in 2006. Each team is paired with an industry mentor, who can provide up to six hours of advice. The students also meet with top executives of the company during a due-diligence session for financial analysts.
Greg Filbeck, professor of finance at Penn State Behrend, also will advise the team, which will spend approximately 200 hours preparing for the competition.
Students from Carnegie Mellon University, Duquesne University, Indiana University of Pennsylvania, Washington and Jefferson College, the University of Pittsburgh and Penn State's University Park campus also will compete in the local investment challenge, which will be held in Pittsburgh. The winners of that competition will advance to a regional event in Chicago.