Penn State Behrend's Innovation Commons – an idea laboratory, maker space, technology playground, legal office, marketing agency and entrepreneurs' gathering spot rolled under one roof – has opened to support small businesses and start-ups.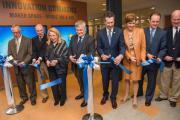 A Jan. 8 ribbon-cutting ceremony hosted by Penn State President Eric Barron and Penn State Behrend Chancellor Ralph Ford celebrated a $50,000 Invent Penn State seed grant that supported the lab's development. Invent Penn State is an initiative launched last year to leverage the University's research, knowledge and entrepreneurial spirit in order to drive job creation, economic development and student career success.
Barron has committed $30 million to putting into place across the University the organization and people to guide and support its partners along their entrepreneurial pathways: working with students to encourage ideation, then helping them to kick-start those ideas into promising new companies; collaborating with communities and corporations, making available Penn State's intellectual resources; and partnering with alumni to mentor students, shepherd fledgling businesses and invest in promising, innovative start-ups.
Penn State's Abington, Harrisburg, Lehigh Valley, New Kensington and Wilkes-Barre campuses also have received Invent Penn State funding.
"Penn State is developing a culture that encourages, nurtures and rewards entrepreneurship," Barron said. "This facility will expand Penn State Behrend's strong and close ties to business partners and the local community and promote economic development and entrepreneurship across the Erie region. It will inspire and support the innovation and entrepreneurial spirit we need in the emerging economy."
Penn State Behrend's Innovation Commons lab, which is located in the Jack Burke Research and Economic Development Center, also is part of the $1.5 million Ignite Erie job creation initiative, a partnership of Penn State Behrend, Mercyhurst University and the Erie County Gaming Revenue Authority. It will house the first of several planned "Innovation Beehives" in Erie County, where students and others can consult with business professionals – bankers, patent attorneys, marketing professionals and other experts – at no initial cost.
"Spanx, a billion-dollar hosiery company, was founded by a young woman selling office equipment," Ford said. "There is no predicting where – or from whom – the next disruptive product or service will come. For anyone with even the kernel of an entrepreneurial idea, the services Innovation Commons provides can open the path to ideation and speed time to market."
The lab is configured so that ideas can be simultaneously explored from technical and business perspectives. The meeting space is equipped with AutoCAD modeling programs, scanners and 3D printers for prototyping.
The space will be open to all Penn State Behrend students and faculty members, and to employees at Knowledge Park, a research complex with 20 tenant companies adjacent to campus. Students also will have access to InnoCentive, a crowdsourced innovation platform that has seeded more than $40 million in business and engineering projects.
The cooperative approach to funding and operating the lab reflects its potential as a business resource for the entire Erie region.
"This model mirrors what is successfully igniting economies across the country, where universities are collaborating with a multitude of entities to create an atmosphere conducive to innovation," said Perry Wood, executive director of the Erie County Gaming Revenue Authority.