The open stairway in the atrium of Penn State Behrend's new Advanced Manufacturing and Innovation Center could have been designed to offer a sweeping view of Lake Erie. Instead, the stairs echo the intent of the $16.5 million, 60,000-square-foot building, which advances the college's "open lab" model of learning: They are positioned to encourage daily interactions between students and faculty experts in the School of Engineering and business and industry partners who want to collaborate on research and manufacturing projects.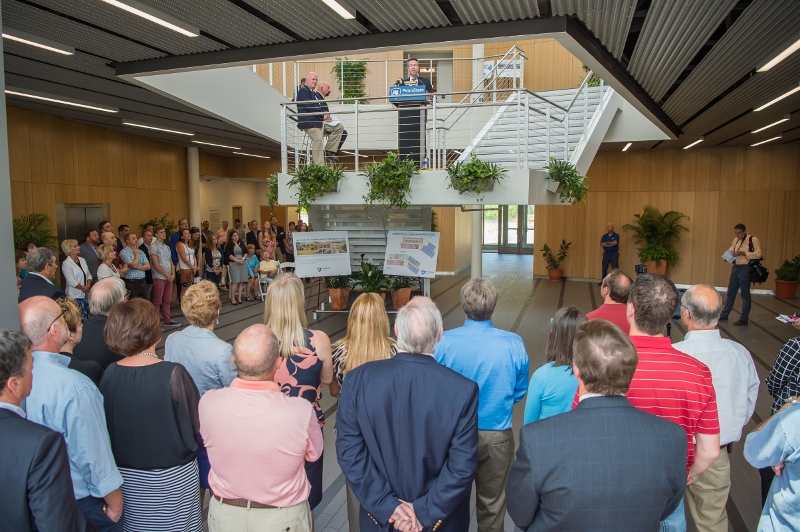 The west wing of the two-story building, located on Technology Drive, will house Penn State Behrend's mechanical engineering program – the college's largest major, in terms of enrollment – and the industrial engineering program. It provides space for 27 faculty offices, five classrooms and two specialty work areas: a 25-seat engineering design lab, configured for light-duty shop work by first-year students; and a collaborative project room for senior design teams, featuring high-end computers with advanced graphics cards.
The new space also expands the college's Advanced Manufacturing Lab, which includes a servo-hydraulic test system, a Stratasys 3D printer, an oven that can heat metals up to 2,000 degrees and a Tinius system that can apply 120,000 pounds of tensile strength – a weight equivalent to 20 sport-utility vehicles.
A second lab houses the region's most powerful environmental scanning electron microscope. The machine, which was purchased with a National Science Foundation grant, can magnify the surface of both hard and soft materials, including tissue samples, by up to 1 million times. Researchers from across the region will have access to it.
AMIC's east wing is reserved for industry tenants, with nearly 19,000 square feet of manufacturing space. The building's design allows for the addition of a high-bay space, if tenants need that feature.
SKF Aerospace North America has reserved 2,700 square feet of the available industry space. The company, a leading global manufacturer of bearings, seals and structural components for aviation engines and frames, will nearly double the footprint of its existing facility in Knowledge Park, which opened in 2013.
By co-locating academic and industry partners in a shared building, Penn State Behrend advances its "open lab" initiative, in which business leaders, faculty members and students engage in research and product development as teams. The college has systematically encouraged collaborative work, both on and off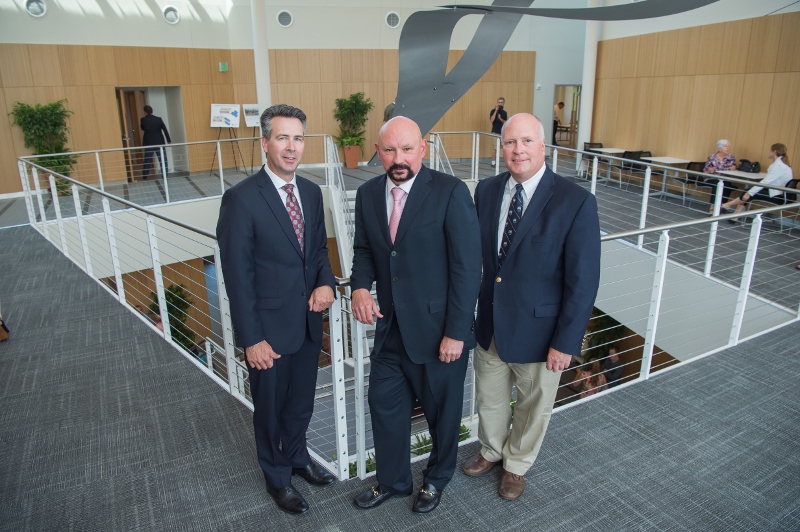 campus, since 2006, when its business and engineering schools were relocated to what is now the Jack Burke Research and Economic Development Center. That move increased interaction between the two schools, encouraging – and sometimes requiring – students to adopt interdisciplinary approaches to their studies.
"Innovation most often occurs at the places where people and ideas intersect," Chancellor Ralph Ford said. "By co-locating students, faculty members and industry partners in shared space, with access to the region's most advanced technology, we are removing many of the obstacles that can limit the development or refinement of products. Here, when inspiration hits, you have immediate access to the tools and talent you need to make that idea a reality."
AMIC is the first known example of a U.S. college or university co-locating academia and industry in a shared open-lab environment. It builds on the established success of Knowledge Park, a 125-acre business and technology complex on the Penn State Behrend campus. Twenty companies and more than 500 employees are based in the park, with access to campus equipment and amenities.
The presence of those companies on campus and an innovative intellectual property policy that allows industry partners to own the results of college research they fund has spurred unprecedented growth in hands-on undergraduate work at Penn State Behrend: Research activity at the college has increased by 58 percent since 2012. More than 70 percent of the senior design projects in the School of Engineering are now funded by industry.
"Our students benefit when they work with experienced professionals to solve specific product-design challenges," Ford said. "At the same time, by bringing in new ideas and approaches, they improve the technology and systems that support local manufacturing. That's a win not only for the college and our partners, but for the entire Erie region."