Penn State Behrend's new Advanced Manufacturing and Innovation Center features custom artwork that reflects the collaborative intent of the building. The process that put that art in place was likewise an intentional collaboration.
The artwork – six murals and two metal sculptures, all by Erie's Higherglyphics art studio– was inspired by and integrates with the architecture of the building. The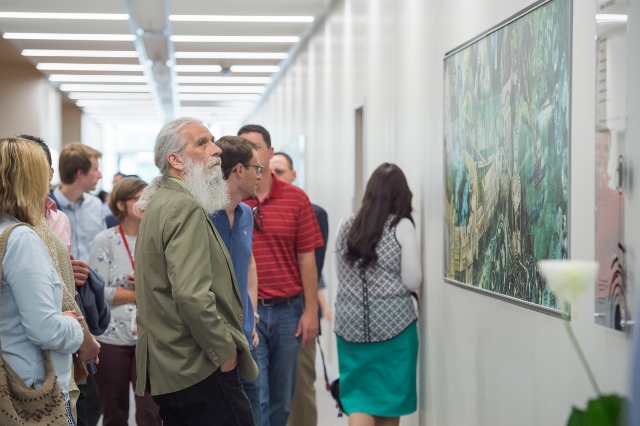 pieces were developed with the involvement of Penn State Behrend students and faculty members. Students from the college's Arts Administration; Digital Media, Arts and Technology (DIGIT); General Arts and Sciences; and Mechanical Engineering programs contributed to the project.
"Students were involved in nearly every step of the creative process," said Todd Scalise, the founder and CEO of Higherglyphics. One former student – Libby Marcoline, a 2015 graduate from Erie – continued her work with him, joining the paid administrative staff at Higherglyphics after her internship concluded.
Marcoline helped Scalise locate fabricators for AMIC's two aluminum sculptures: a 24-foot ribbon-shaped piece titled "Möbius Creek," which is suspended from the atrium ceiling, and an outdoor piece titled "Ribbon Cutting," which was assembled using several 7-foot-tall panels. She also developed a cost analysis of the materials Scalise would use.
Both sculptures were inspired in part by a walk Scalise took along Fourmile Creek, which snakes through a portion of Penn State Behrend's 854-acre campus. "Ribbon Cutting" is sliced into a lace-like pattern meant to echo the root structure of trees that remain as the creek's banks have worn away. "Möbius Creek" is based on the shape of the creek.
Will Gerould, a senior from Corry, developed 3D models of both sculptures. "Todd had ideas and drawings for each design," according to Gerould, "and he said, 'Make this real for me.'"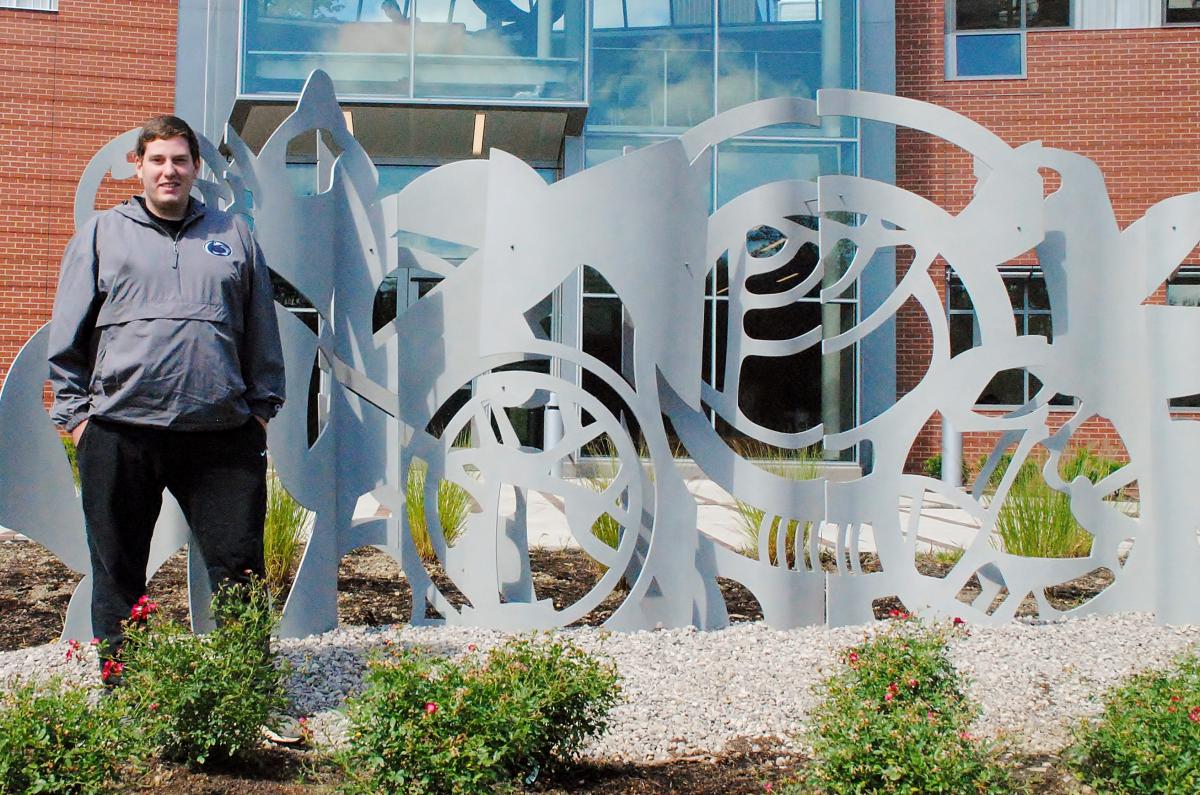 Gerould, a DIGIT major, worked primarily in the Inventor and Maya software platforms. Both are products of Autodesk, which in 2012 provided access to its entire software library to every student and faculty member at Penn State Behrend. That partnership – the company's first with a U.S. college or university – was valued at $21.7 million.
For Gerould, who always liked to sketch, and who built model planes as a boy, assembling miniature World War II fighters, the project broadened his view of what makes someone an artist.
"I always thought of this kind of thing as a hobby, not a career," he said. "This project made me think more about the manufacturing part of the art process. There are opportunities there."
Gerould's work influenced the final design of the sculptures. His scale model of "Möbius Creek" was given to students in the college's Engineers Without Borders club, who conducted a Von Mises stress test to determine the best placement of the hanging mounts.
Several faculty members also provided input. Heather Cole, lecturer in digital arts, printed the 3D model for "Möbius Creek." Jason Williams, lecturer in engineering, refined the digital blueprints that were given to the piece's fabricators.
Matthew Levy, assistant professor of art history and arts administration, consulted on the project. He also oversaw the work that was done by students, including Laura Flockerzi, an arts administration major from Oil City. Flockerzi photographed the installation of the artwork and provided marketing and administrative support at Higherglyphics.
By including students in the design process, Scalise and the others reinforced the collaborative intent of AMIC, which is designed to encourage interactions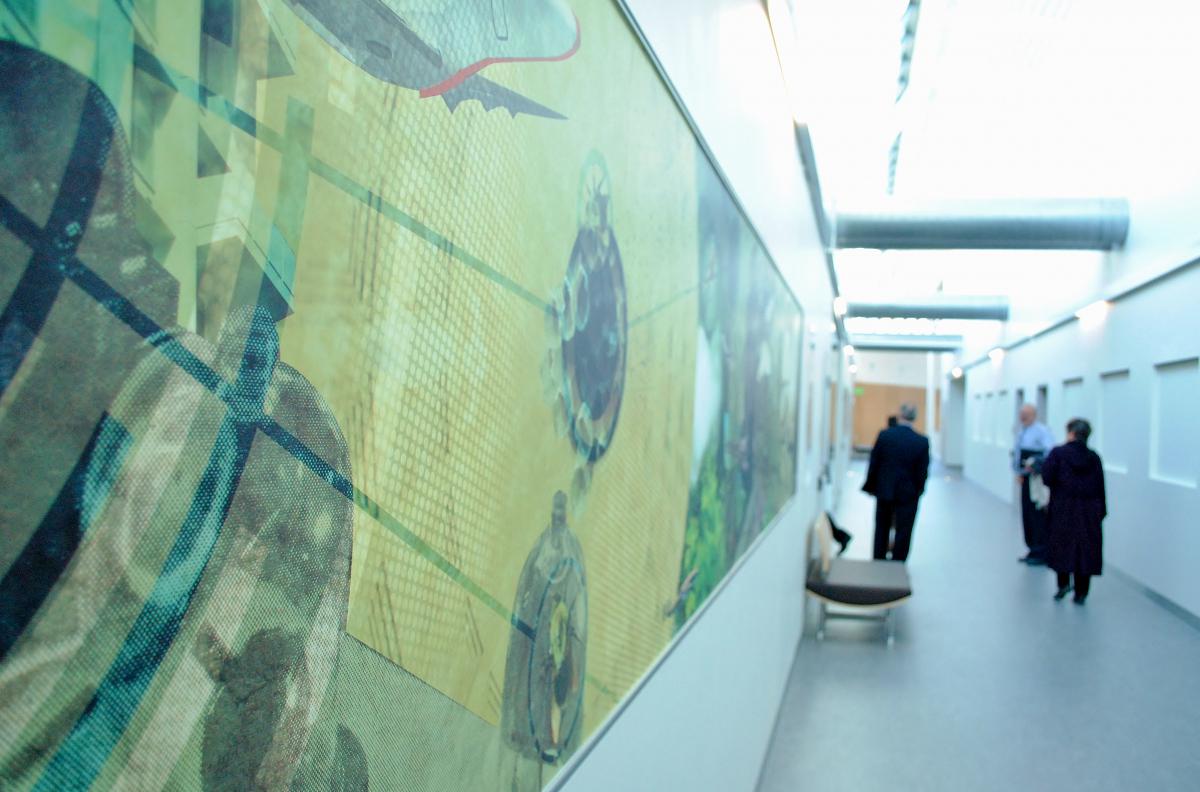 between students, faculty members and private-sector research partners. The west wing of the building houses the college's Mechanical Engineering and Industrial Engineering programs, with dedicated labs for some of the region's most powerful research equipment, including a $662,000 environmental scanning electron microscope. The east wing is reserved for industry tenants, with nearly 19,000 square feet of manufacturing space.
The lobby area, where "Möbius Creek" hangs, is an open, airy space with soft seating and, soon, a café, where informal conversations can lead to collaborative research projects.
The building is a brick-and-mortar representation of the college's "open lab" model of learning, in which students, faculty members and business leaders work as teams to develop new products and processes. The art project also fit that model, Levy said.
"This was an opportunity for our students to experience real professional situations, and to see the differences between theory and practice," he said. "We talk a lot about theory in the classroom, and we look at case studies, but there are sometimes situations that you can't simulate. You have to be able to adjust to the problems and challenges that arise in any project."
Gerould took something else from the collaboration: The pride of having had a hand in a major art installation on campus.
"I've never really been part of a project this big before," he said, standing in the AMIC lobby, beneath "Möbius Creek." "But it's right there, and it's real, and anyone who comes into this building can see it. That's pretty awesome."