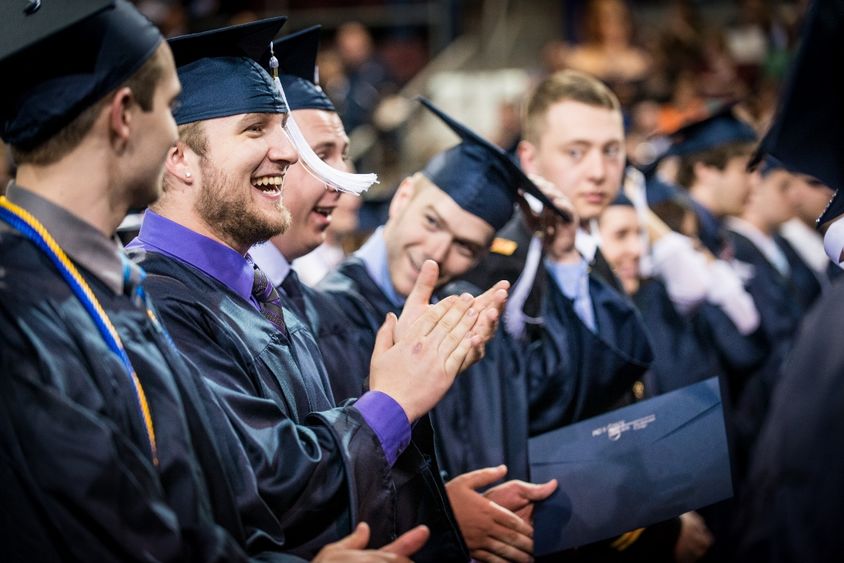 ERIE, Pa. — Penn State Erie, The Behrend College, awarded 651 undergraduate and graduate degrees at its spring commencement. The ceremony was held at Erie Insurance Arena.
"There's nothing to be done at such a moment except to be thankful," said new graduate Yuanheng (Arthur) Wang, who welcomed the graduates and their families. "Thankful for the people, places and ideas that we have connected, and that connected us back."
Wang, a graduate of the Schreyer Honors College, earned a degree in English.
Commencement candidates were led onto the arena floor by student marshals — students who had the highest cumulative grade-point average in their school. Daphne Cruz Hidalgo, an electrical engineering major, represented the Schreyer Honors College. Ariana Gloeckner, a graduate with degrees in international business and accounting, represented the Black School of Business.
Joseph P. Helbling, a mechanical engineering major, represented the School of Engineering. Marjorie E. Schill, an arts administration major, led the School of Humanities and Social Sciences. Lindsey K. Chase, a biology major, represented the School of Science.
Melanie Hetzel-Riggin, an associate professor of psychology, gave the faculty address, which was titled "Just Breathe." She coordinates the college's newest graduate degree, the Master of Arts in applied clinical psychology.
Priscilla Hamilton, a retired U.S. Army Colonel, gave the commencement address. Hamilton, a 1978 graduate of Penn State Behrend, is the former commander of DENCOM, the Army's worldwide system of oral health-care clinics. Her address was titled "The Helping Hand."
Paige Allen, a project and supply chain management major, gave the student farewell address. "We will use what we learned here to guide that open path in front of us," she said. "It may lead us in different directions, but that's what makes us who we are. If you stay true to yourself and never forget where you came from, your path will lead you in the right direction."
Contact
Robb Frederick
Assistant director, news and information, Penn State Behrend