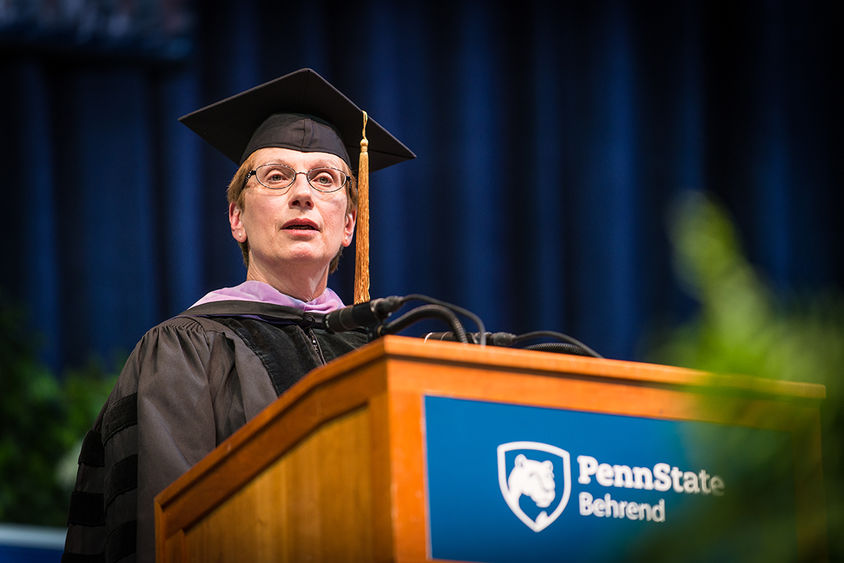 ERIE, Pa. — Alumna Priscilla H. Hamilton, class of 1978, gave the commencement address at Penn State Behrend's spring 2017 graduation. The ceremony was held May 5 in Erie Insurance Arena.
Hamilton in 2015 retired from a 33-year active-duty career in the U.S. Army at the rank of colonel. A former commander of DENCOM, the Army's world-wide dental care system, she also was chief of graduate dental education and dean of the Army Postgraduate Dental School. She holds the title of Professor Emerita of the Uniformed Services University.
An Erie native, Hamilton attended Penn State Behrend prior to graduating from the University Park campus, where she was the University's first female ROTC cadet brigade commander.
Read her address, titled "The Helping Hand," below.
Chancellor Ford, distinguished faculty, staff, parents, family members, alumni and the celebrated soon-to-be-graduates of the Class of 2017, I am deeply honored and most humbled to be your speaker today.
It seems like eons since I last trod the grounds of the Behrend College and the local Erie area. Sometimes I feel like Rip Van Winkle — so much has changed, but the Behrend College campus is even more beautiful. As kids, my sisters and I used to swim in the pool by Glenhill Farmhouse. Today, with over 5,000 students, a number of new buildings due to over $50 million in capital improvements, a top-notch business investment laboratory, plus the Advanced Manufacturing and Innovation Center, Penn State Behrend has really grown to be the keystone of the region's future.
My Penn State story begins when I was about five years old, and my grandfather clutched my hand and helped me up the steep steps of the Trailways bus. This would be the first of many adventures to visit the big university, a two-hour ride away. The indoctrination began when we arrived at our destination, walking up the elm-lined path to first visit Henry Varnum Poor's Land Grant Fresco in Old Main. Then we'd hike up to the knoll where the limestone statue of the prowling Nittany Lion surveys the campus; my grandfather would lift me on its back and take a photograph.
The next stop was Rec Hall, to find the photo of my father, captain of the soccer team and two-time All-American. Then on to Atherton Hall, where my mom resided as a student. The final stop, and the most important, was Pattee Library. These places were regarded as nearly holy shrines. All along the way, my grandfather would interrupt students (honestly, sometimes they were making out under the hedges), and ask them where they were from, what they were studying, ordering them to speak to me and to tell me again and again how important it was to do well in school. At last we would board the bus bound for home. It was always a very full day. This experience would be repeated year after year, crystallizing the idea that I, too, would attend Penn State, and it was expected that I would do well.
My grandfather, Mike Lulka, was an immigrant Ukrainian coal miner who, with my grandmother, also a Ukrainian immigrant, lived in the little town of Sykesville, Pennsylvania. Tata, as we called him, was born in a small village near Ternopol in western Ukraine in 1892. He ran away from home at the age of 14, in rebellion for being forced to abandon his studies to work the family farm.
He made his way across Europe and eventually found passage from Hamburg, Germany, to the United States, arriving through Ellis Island in November 1913. His story is probably not unique to thousands of immigrants at that time. However, his passion for learning was singularly noteworthy. Tata himself never benefited from advanced schooling, but he was a self-taught man who read voraciously and had an intrinsic appreciation for the value of education. On a coal miner's salary, he sent all four of his children to college. The only university, in his opinion, was Penn State.
My mother graduated in 1945 as World War II was drawing to an end. My dad, a fatherless boy from a hardscrabble farm near Indiana, Pennsylvania, joined the Navy. He returned from the Pacific Theater through a Navy officer training opportunity called the V-12 program. Dad graduated in 1947, the first in his family to go to college. Both of my parents' Penn State diplomas are still proudly displayed on the wall in our family home. Through Tata's urging and financial help, both of my parents went on to earn master's degrees.
Tata embodied what President Barron has set forth in the Open Doors core imperative of the university's 'A Greater Penn State for 21st Century Excellence' capital campaign: Encouraging capable, hard-working students from every background to attend Penn State, regardless of heritage, individual characteristics or financial well-being. Tata became a pest in the local Sykesville schools. He sat in on classes and observed students and their teachers. He was a very active mentor, taking a great interest in those students who showed promise. He offered them a helping hand by providing encouragement, offering career guidance, and assisting them financially to go on to school — beginning their education in then what was known as the DuBois Undergraduate Center of Penn State.
Those students participating in the Intrieri Family Student Managed Fund would likely cringe to know that Tata's preferred investment strategy was U.S. savings bonds. His generosity came with accountability — he personally reviewed the report cards for each of his mentees, and he was so very proud of their accomplishments. When Tata passed away, in 1979, a large portion of his estate funded the Michael Lulka Scholarship for deserving students at Penn State DuBois.
My two sisters and I all graduated from Penn State. Where else? We jokingly say that we knew the fight song before we started kindergarten!
Campuses were instrumental in our college life experience. My youngest sister and I began our Penn State pursuit right here at Behrend, and both of us became Army officers through ROTC. I was fortunate to be in the right place at the right time, when the Army was looking to expand an ROTC program here at Behrend. We had a small but very active detachment led by recent Vietnam-era cadre. The guidance they provided was instrumental to my success in becoming an ROTC leader at University Park, and eventually as an Army officer. I understand that we have three Army commissionees in this class — it's good to see the program is still viable.
My middle sister began her Penn State experience at the Beaver Campus and was an inaugural Lion Ambassador. All of us also went on to earn advanced degrees. Tata planted the expectation to thrive and succeed, and his helping hand was there for us three girls all along the way.
My Penn State story is a deeply personal one. You are writing your own. Today marks a seminal day in your lives — a day of shining new beginnings and unbridled opportunities. Some of you may be the first in your family to earn a degree, like my dad. Some of you may have benefited from a relative or friend's generosity, or from a scholarship thanks to an anonymous donor. The bottom line is to not forget whence you came, and how you got to this day. It's now your turn to symbolically take the hand of another 5-year-old, get on the bus and help guide their future. Never underestimate how much your presence, your actions and your example will serve as tremendous motivators to someone else.
I encourage you to actively mentor a young person to pursue their dreams through higher education. Give generously of your time and your resources. Support those entities that gave you such a solid foundation to build upon. Offer the helping hand — it will reinforce your own gratitude for living.
Graduates, revel in this day. You have earned it. You have my most hearty congratulations and I wish you all the best. Ever, For the Glory! Thank you.