Students visit Penn State Behrend for day of chemistry experiments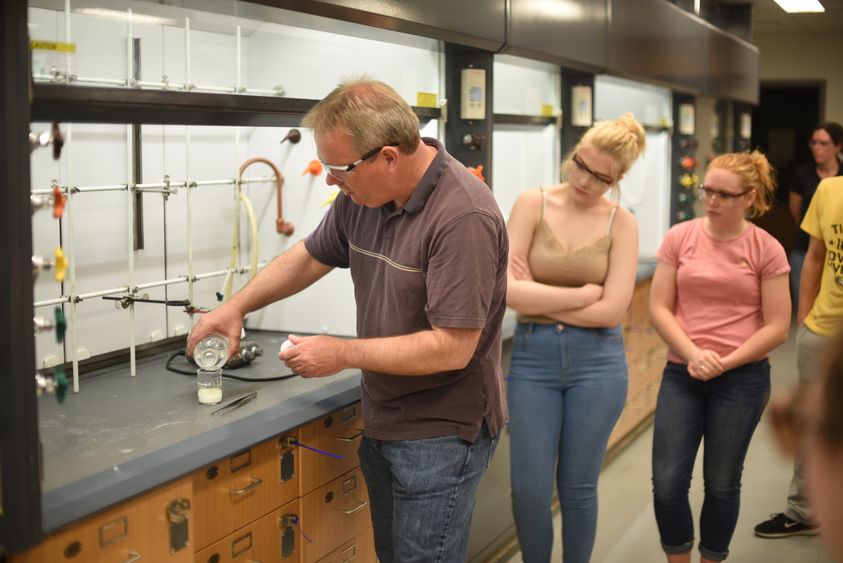 ERIE, Pa. — That cucumber melon smell in your hand soap didn't come from out of nowhere. The same goes for the citrus fragrance in your spray perfume.
Claire Tushak now knows that as well as anyone. After all, it was just last week that she and her classmates created esters, the chemical compound responsible for such smells.
"We're looking at what type of fragrances these esters make," said Tushak, a senior at McDowell High School. "We're doing a reaction, and then we're going to see what the scent is."
Along with 12 of her high school organic chemistry classmates, Tushak visited Penn State Erie, The Behrend College, on May 17 for a day of hands-on chemistry experiments in an academic chemistry lab. Under the instruction of Michael Justik, associate professor of chemistry, and Jerry Magraw, senior technician, the students caused a number of chemical reactions, resulting in the creation of a compound containing an ester and molecules found in biodiesel.
"This really helps pique your interest by showing you what college coursework will be like," Tushak said. "There's only so much that we can learn and do in a high school setting."
The esters experiment also reinforced what the students are currently studying.
"They've been studying this reaction on paper, but now they're actually doing the reaction, getting the product, and they'll be able to analyze it as well," said Pam Liccardi, the students' organic chemistry teacher.
The esters the students created ultimately smelled like pears, but that was not the biggest takeaway of the day.
"It's just so nice that we're getting a head start on how to use all of this equipment," said Becca Olanrewaju, also a senior at McDowell who will attend Penn State Behrend this fall and plans to major in plastics engineering technology. "This is just a whole different experience for us. We do have to miss school to come here, but we get to do something interesting and different, and it's worth it."
Contact
Steve Orbanek
Marketing Communications Coordinator, Penn State Erie, The Behrend College