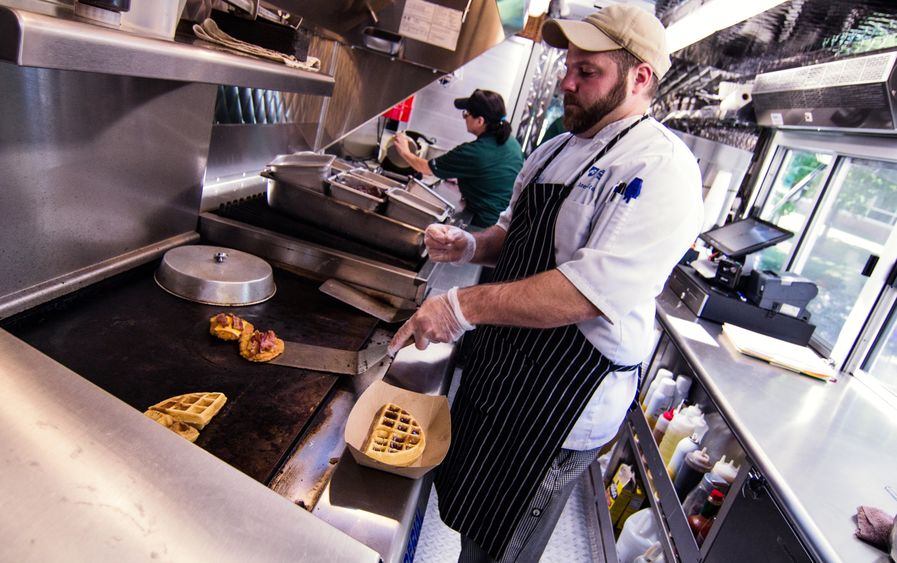 ERIE, Pa. — The kitchen James Nicosia works in is kind of tight: no more than four steps, east-to-west, from the grill to the order window, where a customer is asking for a cinnamon-bun sandwich.
"It takes some getting used to," he says, stacking ham steak on sausage and egg. "There is no such thing as personal space in here."
He tries to stay to the left of the cashier. When one of them does have to pass — to grab more coffee lids, for example — they signal it with a pat on the back.
"We've given up on the whole 'Excuse me' thing," says Nicosia, a chef at Penn State Erie, The Behrend College.
The kitchen is fully equipped: There's a char grill, an oven, two fryers and a hot-box cabinet. There's a sink, a sandwich board and an upright refrigerator-freezer combo, stainless, with a mirror shine. There are two generators, an independent water system and … a steering wheel. Because at 10 a.m., Nicosia will drive all of it to the college's engineering complex, where he'll set up again and serve lunch.
The Behrend Clipper is Penn State's first University food truck. It offers breakfast, lunch and late-night study-break food, including Starbucks Cold Brew, at four rotating locations on the Penn State Behrend campus.
The menu changes when the truck moves. In the morning, it's sausage dippers, waffle sandwiches and coffee; at lunch, it's tacos, burgers, Reubens and Cubanos. Late-night occasionally brings a Gravedigger: a chicken breast topped with Cajun spices, Tabasco sauce, jalapenos and pepper jack cheese.
Food carts and taco trucks have long been part of urban food scenes. The current trend dates to 2008, when Roy Choi, a laid-off chef, began selling $2 Korean barbecue from a wheeled kitchen in Los Angeles.
Food trucks are now a $1.2 billion industry, according to the Economist. Several operate in Erie, parking at festivals, breweries and around Perry Square.
"The idea for a campus food truck came from our students," says Michael Lindner, director of housing and food services at Penn State Behrend. "Our campus is growing, but there is still not a lot of retail near us. The students wanted more diversity in the food that is available to them, and one of their suggestions was a food truck."
Lindner saw just one problem. "Food truck operators tend to be nomadic," he says. "They don't like to be told they have to be anywhere every Tuesday from 11 until 2. So we decided to buy our own truck."
He talked with food-truck operators at four other universities, including West Point, and they all convinced him to go mobile. Ohio University launched its first food truck, the Hungry Cat, back in 2015, when a campus dining hall was closed for renovation. It was an instant success: When the hall reopened, Ohio kept the Hungry Cat running.
The Behrend Clipper is a 31-foot Freightliner equipped with a skylight, a backup camera and two RV air conditioners. The college has always named its dining and residence halls after the ships and captains in the Battle of 1812, and the Clipper continues that motif: It's wrapped in cartoon-style graphics, including a map of Presque Isle, where Commodore Oliver Hazard Perry moored his fleet. There's even a Nittany Lion in a tall-ship's crow's nest.
Lindner hopes to expand the Clipper's use on campus. He already has taken it to soccer tournaments and the fall career fair.
Nicosia and the others who work in the Clipper are still adapting to the new environment. "What works in a kitchen isn't always the best system when you're in a truck," Lindner says.
The real test will come this winter. Lindner plans to operate the Clipper even when the snow falls. For that, he'll use one other feature of the truck: an eight-foot awning that will provide cover for customers and their food.
Contact
Robb Frederick
Assistant director, news and information, Penn State Behrend