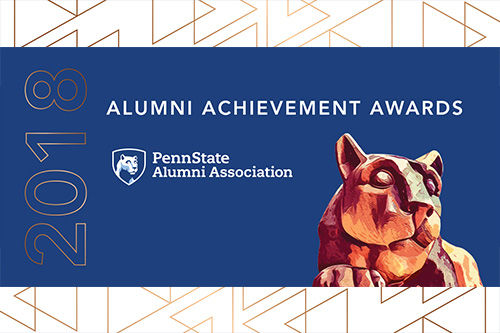 UNIVERSITY PARK, Pa. — The Penn State Alumni Association will honor 10 prominent young alumni at the Alumni Achievement Awards on March 23.
Stories and achievements about this year's 10 accomplished graduates, 35 years of age and younger, are below. The honorees officially will be recognized next month, when they visit the University Park campus for guest lectures, student engagements, and an award ceremony.
Alumni Achievement Award recipients are nominated by an academic college or campus and invited by the president of the University to return to Penn State to share their expertise with students and the University community. Honorees demonstrate to students that Penn State alumni succeed in exceptional fashion at an early age.
The Alumni Achievement Award began in 2005, and since then has honored 140 outstanding alumni, including this year's class. Award recipients will meet and talk with students on March 22 at the Hintz Family Alumni Center, the day before the award ceremony, and many will guest lecture in classrooms to share insights on their successes in life and business.
Following is a brief description of each honoree; full bios of these recipients will be posted on the Alumni Association's website next month. To read about past honorees and view videos of their acceptance speeches, click here.
Rebecca Ann Buckley-Stein, a 2015 Penn State Law graduate, is a staff attorney with the California Rural Legal Assistance Inc. in Delano, California. She fights for the rights of low-income individuals and their families and fights for her clients' civil liberties. Whether she is defending public-housing tenants facing wrongful evictions or affirmatively suing public schools for racially discriminatory policies, she seeks justice for low-income rural Californians. Outside the classroom, she worked with Nailah Williams, also a 2015 Penn State Law graduate, to organize Penn State Law's alternative spring break, and she also co-founded the Penn State Law Veterans and Service Members' Legal Clinic with fellow alumnus Justin Bish.
Neil Goldman, a 2005 graduate of the College of Health and Human Development, is the founder and CEO of Hotels for Hope, a company that brokers and manages hotel inventory for large consumer events and brands. Hotels for Hope's technology allows clients to white-label hotel booking solutions that capture valuable consumer data, create incremental revenue streams, increase attendee experience, and generate significant cost savings. Currently, Hotels for Hope works with brands like NASCAR, Formula One, Lollapalooza, Barrett-Jackson, and Inc. magazine. Additionally, through Hotels for Hope's niche crowdfunding platform, RoomFunding, $2 per every actualized room night is donated to help children live happier and healthier lives. To date, Hotels for Hope has donated more than $750,000 to nonprofit partners.
Seth M. Hernandez, a 2006 graduate of the College of the Liberal Arts, is an entrepreneur who has created two thriving companies in San Francisco, with no outside investment. He is founder and CEO of Cloud Anthem and SF Bartenders. Cloud Anthem helps mid- to large-size companies transition from legacy software to enterprise cloud-based technologies. SF Bartenders is a full-service mobile beverage catering company hosting conferences and events throughout California. Hernandez is on a personal mission to give back his time, resources and expertise to many local alumni and youth. He serves as treasurer of the San Francisco Chapter of the Penn State Alumni Association.
Megan Matthews, a 2011 graduate of the Eberly College of Science, is an assistant professor of chemistry at the University of Pennsylvania. She graduated from Penn State with a doctoral degree in chemistry in 2011. Working in the laboratory of Marty Bollinger, professor of chemistry, Matthews was a creative thinker who led the Bollinger lab in new directions. Ultimately, her discoveries would turn established dogma on its head and take the entire field in a new direction. Her research has found electrophiles in proteins that are implicated in causing cancer and Alzheimer's disease. Tracking down these and a host of other leads will likely play an important role in the development of new drugs for Alzheimer's.
Jared Edgar McKnight, a 2011 graduate of the College of Arts and Architecture and the College of the Liberal Arts, is an associate and designer at WRT LLC, an architecture, landscape architecture, planning, and urban-design firm based in Philadelphia. Since joining the firm, he has played a significant role in rebranding WRT, and in winning major commissions, including the Equal Justice Center in Philadelphia and the Hoover-Mason Trestle in Bethlehem, which has won national and international awards. McKnight has received several awards from the American Institute of Architects. He also is an active volunteer both in his community and at Penn State. In addition to his Penn State degrees, he holds a master of architecture degree from the University of Pennsylvania.
Nicole Reed Fry, a 2005 and 2008 graduate of the College of Earth and Mineral Sciences, is a managing consultant in the energy practice at Navigant in Boulder, Colorado, where she specializes in strategy, planning and evaluation for utility energy efficiency and distributed energy resource programs. She also co-founded Boom Algae, a startup venture that converts waste CO2 from breweries into algae-derived omega-3 oils. She remains connected to Penn State by serving as an alumni mentor for both Schreyer Honors College and the College of Earth and Mineral Sciences. She is a graduate of the Schreyer Honors College. In addition to her Penn State degrees, she also earned an MBA from the University of Colorado Leeds School of Business.
Guy L. Reschenthaler, a 2004 graduate who attended Penn State Erie, The Behrend College, represents the 37th District in the Pennsylvania Senate, and serves portions of Allegheny County and Peters Township in Washington County. He was elected to the state Senate in November 2015, winning a special election, and was re-elected in November 2016 to serve a full four-year term. He serves on the Penn State Behrend Council of Fellows, Behrend's Humanities and Social Sciences Advisory Board, and Behrend's Political Science Advisory Board. Reschenthaler graduated from Penn State in three years with a bachelor's degree in political science, and he completed law school at Duquesne University.
Devon Still, a 2011 graduate of the College of the Liberal Arts, played in the National Football League for six years as a member of the Cincinnati Bengals and Houston Texans. He was captain of Penn State's football team in 2011 and a collegiate All-American and Big Ten Defensive Player of the Year. While his skills and career as a football player are impressive, it is what he has done off the field that is especially noteworthy. In 2014, Still's daughter, Leah, was diagnosed with Stage 4 pediatric cancer. In 2015, he and his daughter started the Still Strong Foundation, which today provides grants to families to help cover nonmedical bills, like mortgages and utilities, so they can devote their attention to supporting their child's fight against cancer.
Bjorn Trowery, a 2008 graduate of the Bellisario College of Communications, is director of communications for Heineken USA, heading a wide range of integrated communications for the Dutch brewing company. He has led scores of PR campaigns, guided crisis-response teams, shaped merger and acquisitions messaging, and proudly leads a team of storytellers for some of the world's most iconic beers. He led Heineken's communications efforts on site in Rio de Janeiro at the 2016 Olympic Games. Trowery is a frequent visitor to the University Park campus as a guest lecturer in numerous public relations classes in the Donald P. Bellisario College of Communications. He also is an active volunteer at Penn State and in New York City.
Kate Whalen, a 2008 graduate of the Smeal College of Business, is a director within BlackRock's European private credit team. In this role, she is responsible for investment structuring, foreign exchange hedging, management of fund leverage facilities, and day-to-day business management activities. Whalen also leads investor negotiations and operational due diligence for the firm's European middle market private debt strategy. In 2017, she helped launch BlackRock's first direct lending strategy, which to date has raised more than $1 billion from investor commitments. Whalen is a member of 100 Women in Finance (100WiF), a global network of professional women across the finance and alternative investment industries. 100WiF focuses on empowering women in their careers in the world of finance.