Penn State Behrend students perform well at bi-annual event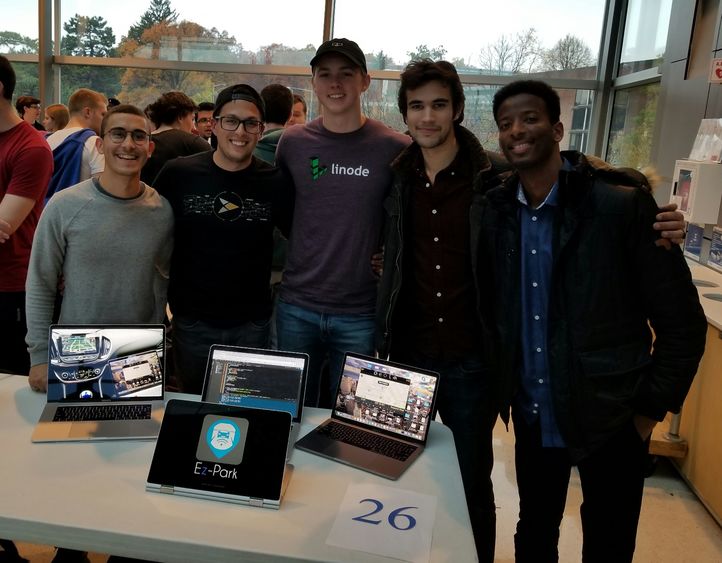 ERIE, Pa. — Brandon Bench did not have to apply for his most recent job interview. It came from HackPSU.
The senior software engineering major at Penn State Behrend was one of more than 600 students who participated in this past fall's HackPSU, a 24-hour educational "hackathon" that encourages student "hackers" to apply their skills, passion and drive to help solve real-world problems that universities and companies face on a daily basis.
Together with fellow Penn State Behrend students Hozaifa Abdalla, Daniel Lopez, Fernando Carrillo and Dustin Reimold, Bench took first place in the General Motors Challenge for their project, EZ-Park.
That was all one company needed to see.
"A company that deals with infotainment systems interviewed me for a mid-level position specifically because of my experience on this project," Bench said. "Hackathons like HackPSU open many doors, and they really do look great on résumés."
Held twice annually, HackPSU provides students with the opportunity to complete unique challenges for different companies in attendance. Students can opt to tackle several of the challenges or just hone in on one, which is exactly what Bench and his teammates did this past fall.
As part of the General Motors Challenge, the team was charged with finding a way to utilize GM's new vehicle infotainment system. Bench and his teammates saw it as a chance to address one of college students' most consistent concerns: campus parking.
"When you get in your car, the car instantly tells you where your next class is, and the navigation directs you to a parking lot that will work best for you based on location, parking lot type, the amount of spots open and price," Bench said.
Once the user parks, the app would then also send a text to the person's phone with walking directions to his or her classroom.
In total, more than 60 students from Penn State Behrend attended the fall HackPSU, and large numbers are expected again for the spring event, scheduled for April 7-8 at Penn State's University Park campus.
"Hackathons like HackPSU encourage lifelong learning," said Aiden Chiavatti, a senior software engineering major and president of Behrend's Association of Computer Machining. "I think there's a lot of value in general learning outside the classroom, and that's what I like best. Every time you go, there's always a role for you, and you always learn something new."
Completing an entire project in a 24-hour time span can be a challenge, but as Chiavatti and Bench both attest, that's also what makes hackathons so fun.
"In all my years as a student, I never pulled an all-night until this," Bench said. "But I'm okay with that. With these challenges, there's really no limits, and you get to use your imagination so much."
"Sometimes you need a lot of that time to find an idea, but once you find and start to implement it, that's really the best part," Chiavatti added.
Several other Behrend students performed well at the fall HackPSU. The team of Jacob Davis, Ali Malik, Alakh Naik and Austin Higgins took first place in the IBM Watson Challenge, while Conrad Weiser, Ryan Seipp and Dan Kovalevich won the BNY Mellon Challenge.
For the seniors who will soon graduate, April's HackPSU offers a last chance to compete in the competition. Bench and others are already gearing up for the opportunity.
"It's my last one, and I'm pretty competitive," Bench said. "I definitely want to make a nice, last impression."
Contact
Steve Orbanek
Marketing Communications Coordinator, Penn State Erie, The Behrend College