Penn State Behrend seniors finish third in international competition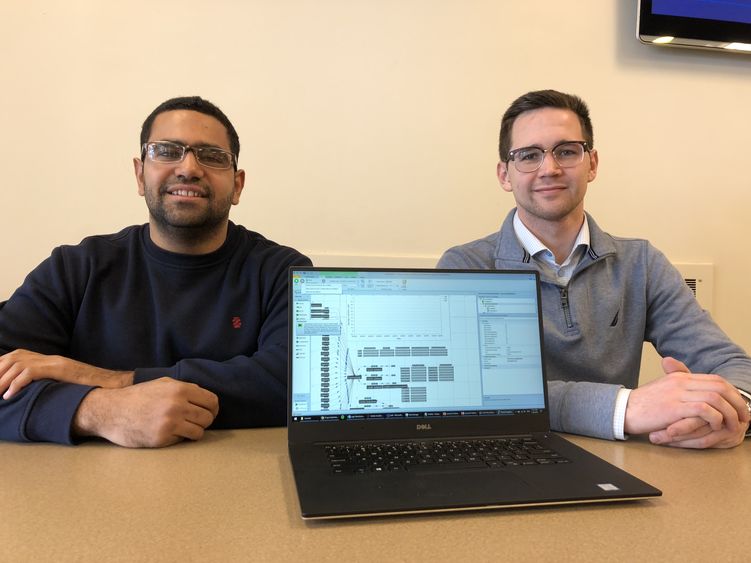 ERIE, Pa. — Mohamed Badawy did not know what to expect when he entered the Simio Student Case Competition at the urging of Omar Ashour, assistant professor of industrial engineering at Penn State Behrend. The senior industrial engineering major was familiar with Simio, a software program that offers simulation, production planning and scheduling solutions, but he knew it would take more than that to win.
He needed someone who was good with numbers. That's where Max Morrow came in.
After being introduced to one another through Ashour, who would then become the adviser to the team, the two Penn State Behrend seniors partnered for the competition, finishing in third place. More than 250 teams from 36 colleges and 13 countries participated in the competition.
Morrow and Badawy's pairing brought together students from two different disciplines to the competition. Most teams consisted solely of engineering students, but Morrow is a senior finance and mathematics major in the Black School of Business while Badawy is a student in the college's School of Engineering.
That's what gave the two students an edge.
As part of the challenge, teams were charged with simulating financial activity for the fictional SafeBank, a major custodian bank in the global financial market. This required simulating system activity (for example, cash flows from transactions, swaps and settlements) to find the profit-maximizing quantities that would represent acceptable risk.
Right away, Badawy and Morrow, who named their team Awe-Sim, dug deep into the numbers.
"This was a big responsibility," Morrow said. "We were able to use the college's Bloomberg Terminal to look at the raw data before actually using Simio software. We generated percent changes, and I created distributions before Mohamed actually built the model in Simio."
With the model conceptualized, Badawy went to work.
"The bank's profit was based on customer transactions, and they had multiple scenarios that needed to be tested, so that's where the software came into play," Badawy said.
To ensure accuracy, he ran the simulation 365 times for every one of the 365 days in a year. This helped show that SafeBank would be able to support client transactions throughout the year and would not be at risk of running out of money.
"We ended up coming in third place, and that's something I never expected," Badawy said. "Given each of our backgrounds, we almost kind of went into this as financial engineers, and I think that helped us."
For an overview of the competition, visit Simio's academic site.
Contact
Steve Orbanek
Marketing Communications Coordinator, Penn State Erie, The Behrend College