HERO BX partnership extends open-lab model to college's School of Science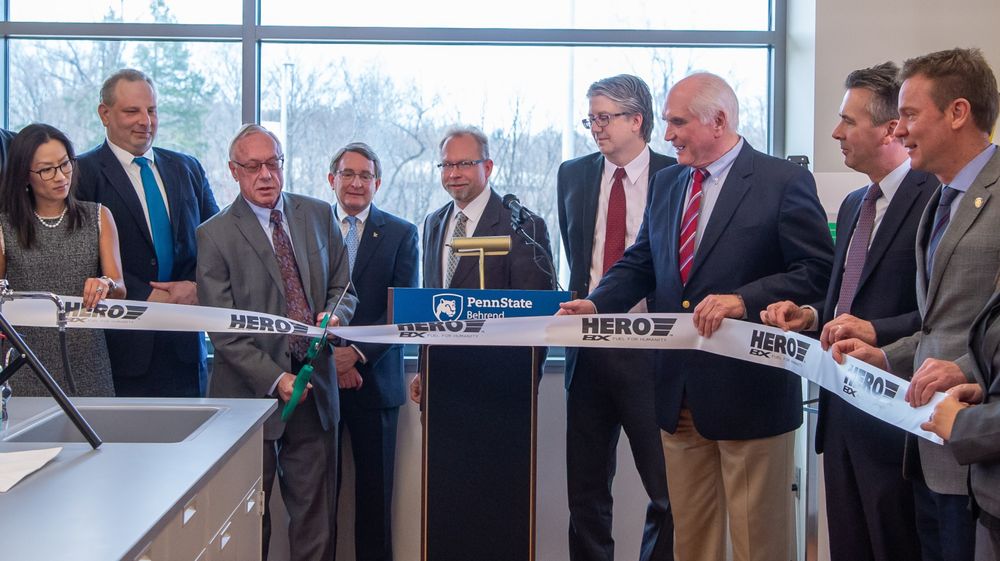 ERIE, Pa. — A $1 million investment by HERO BX, an Erie-based biodiesel company, will create research opportunities for students and faculty members in the School of Science at Penn State Erie, The Behrend College. Much of the work will be conducted in a new, 1,500-square-foot chemistry lab the company has developed in the Advanced Manufacturing and Innovation Center in Knowledge Park.
Students will work with HERO BX chemists and other researchers to reduce the sulfur in biodiesel feedstocks, which are processed for reuse as transportation fuels and heating oil. HERO BX produces more than 50 million gallons of biodiesel every year.
Subsequent studies will focus on increasing the efficiency of biodiesel in cold-temperature applications, including commercial aviation.
"Like any other industry, biodiesel has to diversify to survive," said Samuel P. "Pat" Black III, the founder and CEO of HERO BX. "I choose to invest in our own research and development to ensure that survival."
HERO BX operates production and distribution facilities in Erie, Alabama and New Hampshire and is the largest producer of biodiesel in the eastern United States.
The company will staff the Knowledge Park lab with a full-time manager. Post-doctoral researchers also could work there. Penn State Behrend undergraduates will contribute to research as interns beginning this summer.
"Having a lab on campus gives our students the flexibility to work in new ways," said Marty Kociolek, director of the School of Science and an associate professor of chemistry at Penn State Behrend. "It will be much easier for students to integrate their work with HERO BX into their academic schedules. They can walk over and work for a few hours between classes."
The commitment by HERO BX to staff the lab with a manager and, as needed, additional researchers will allow students to engage with industry scientists on a daily basis, Kociolek said.
"They're not going to work in isolation here," he said. "They're going to learn the entire process for the production of biodiesel, from beginning to end, and see how the chemistry they have learned in their classes is used in a real-life application."
The HERO BX partnership is the first open lab initiative in the college's School of Science.
"The HERO BX lab will create new opportunities for Penn State Behrend students to collaborate with an industrial research partner — in this case, developing cleaner, domestically produced, renewable fuel sources," Chancellor Ralph Ford said. "This is a true collaboration, with a commitment by both partners to engage directly and regularly in a way that only a presence on campus makes possible."
The Advanced Manufacturing and Innovation Center was designed to foster exactly that kind of collaboration. The building, which is located in the college's Knowledge Park, advances Penn State Behrend's open-lab model of learning, which matches students and faculty members with private-sector partners for experiential student learning, applied research and advanced product development.
Contact
Robb Frederick
Assistant director, news and information, Penn State Behrend