Top Nittany AI Challenge teams awarded $25,000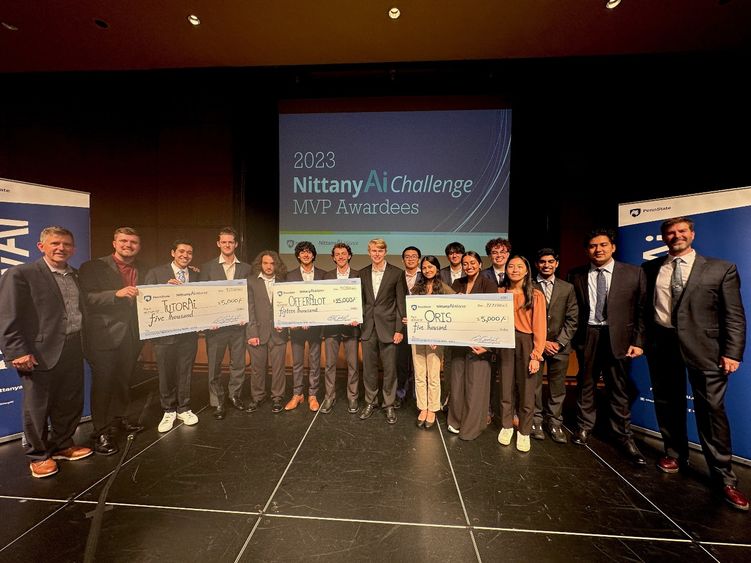 UNIVERSITY PARK, Pa. — Three student teams will continue their work using artificial intelligence (AI) to make a positive impact in the world with $25,000 awarded to them for a minimum viable product (MVP) created during the 2023 Nittany AI Challenge.
The students were recognized during the AI for Good Expo, an event hosted by the Nittany AI Alliance that brings together students, faculty, staff, community organizations and businesses to celebrate, explore and discover innovative ways to use AI for good.
During the final round of the competition, top teams created an MVP which was scored by a panel of judges. Former Penn State football player and recently retired NFL player Carl Nassib served as one of the reviewers as part of a group from the United Way of Chester County. Nassib is also the founder of Rayze, a platform that connects nonprofits, volunteers and donors.
"I was blown away. I was proud that these are Penn State students. I feel excited there are other smart people who are working to do what I am doing with Rayze," Nassib said.
The top award of $15,000 went to OfferPilot, a tool to help students find and secure entry-level positions, by building perfect, tailored resumes and cover letters. Team members Stephen Leshko, Yajat Dewan, Omer Kandemir and Omar Rady are computer science majors in the College of Engineering.
"We started this project because trying to land internships and entry-level positions was challenging for me and many of my peers. We wanted to create a platform to let quality and talent show through," Leshko said.
In a first for the Nittany AI Challenge, Leshko and Rady appeared on the stage twice during the awards ceremony, as they were also part of the third-place team TutorAI, which was awarded $5,000.
This time they were joined by team members Cole Johnson, Zachary Walnock and Ryan Jai Hokimi from the College of Engineering, Xavier Zhang from Penn State Behrend and Panav Sheth from Schreyer Honors College.
The team said they will use their award to continue working on the tool to provide accessible and affordable tutors for all students. Leshko said working with the Nittany AI Alliance has already had a positive impact on his life.
"Participating in the Nittany AI Challenge has been an incredible opportunity. There have been sacrifices, but this has been one of the best decisions I have ever made," Leshko said.
Students from the second-place team, Oris, said they will use the award of $5,000 to continue their work to empower medical volunteers with AI technology for improved oral disease detection and classification in low-income communities.
Team Lead Sahil Kuwadia, a student in the College of Engineering, said he was inspired by his grandfather.
"He is in the hospital right now because of oral health issues. So, to me, it means a lot to win for this oral health project so I can show my grandfather how we could help others in the future," Kuwadia said.
Working with Kuwadia are undergraduate students Kenny Hermus, Saadya Rao, Samarth Tehri and Maxwell Palamarchuk, in the College of Engineering; Loc Phan and Mabel Tong from the Eberly College of Science; and Rida Hamid from the College of Health and Human Development. Phan was also on a winning team in the 2022 Nittany AI Challenge.
The work of these students in the Nittany AI Challenge is just one example of how the Nittany AI Alliance supports students with unique opportunities to help prepare them to lead in a world shaped by artificial intelligence.
"We do this by immersing students in project-based experiences that bring together companies seeking strategic AI collaborations, faculty working on innovative AI research, and staff looking to address higher education process pain points using AI," said Daren Coudriet, executive director of innovation for Penn State Outreach and the Nittany AI Alliance.
The following five students who are alumni of the Nittany AI Challenge and Advance programs were also recognized at the event for their work in the AI space with awards of $1,000 each from the "AI Excellence Awards in Penn State Outreach" sponsored by Jonathan and Alana Dambrot:
Thomas Foltz: a Schreyer Honors College student working towards a bachelor's degree in computer science and a master's degree in computer science and engineering. Foltz was a 2022 Nittany AI Challenge winner and a Nittany AI Advance intern working on a project with the Southeastern Pennsylvania Transportation Authority (SEPTA).
Prajnay Kataria:  a computer science major in the College of Engineering, who serves as president of the Nittany AI Student Society and was a 2022 Nittany AI Advance intern.
Omar Rady: Rady was again recognized for his work in the 2023 Nittany AI Challenge, and for winning the 2023 Hack PSU Nittany AI Alliance and overall awards, the Happy Valley Venture Capital Pitch Competition, and the 2023 Inc.U competition.
Parker Sell: a student in the Schreyer Honors College working toward a bachelor's degree in computer science and a master's degree in computer science and engineering. He was a 2022 Nittany AI Challenge winner and a 2022 Nittany AI Advance intern.
Poorvika Vijayanand: a student in the Schreyer Honors College working toward degrees in social data analytics and philosophy. She was a 2022 Nittany AI Advance intern and is now the tech lead for a Nittany AI Advance project with the American Red Cross.
AI for Good Expo keynote speaker Chris Wood, executive director and co-founder of LGBT Tech, an organization working to bridge the technology gap for LGBTQ+ individuals, said speaking to the students and hearing about their projects was inspirational.
"It is the future leaders of tomorrow who are going to be talking about the next great thing, how we are going to transform society. How we are going to work, better, smarter and faster. So, as I am talking to individuals here and hearing their perspectives on why they came up with these projects it is very inspiring, and I just want to encourage them," Wood said.
More information about upcoming Nittany AI Alliance events can be found here.
The Nittany AI Alliance is a service of Penn State Outreach.