Mickie MacNicol to continue helping others as nurse at Saint Vincent Hospital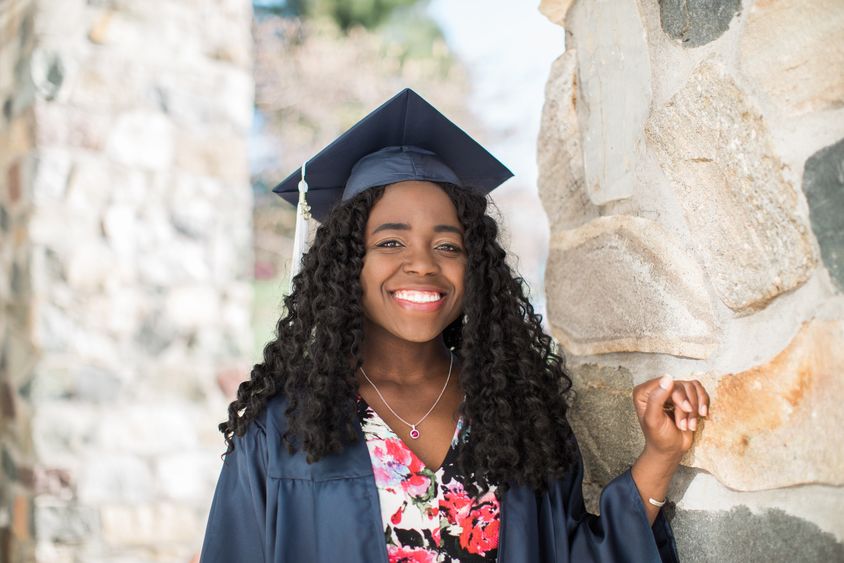 ERIE, Pa. — On Jan. 12, 2010, Mickie MacNicol was a 15-year-old orphan living in the Hope for the Children of Haiti orphanage in Port-au-Prince. It was on this day that a magnitude 7.0 earthquake hit the country of Haiti.
An estimated 3 million people were affected by the quake, and the death toll estimates ranged from 100,000 to more than 160,000. Included among those numbers were several of MacNicol's peers at school.
"I was in the building on the third floor (of the orphanage), and it was pure luck that I survived," said MacNicol, who recalled the building violently shaking. "I saw several people die right in front of me, and it was so hard because there was nothing I could do because I had no medical training or knowledge."
The memory has continued to haunt her.
"I would always have nightmares," she said. "It does get better with time, but every year on Jan. 12, I am reminded of it. Eight years later, it still affects me."
MacNicol has regularly seen a therapist to cope with the tragedy. Her relatives and friends back in Haiti have not been so lucky. MacNicol said there is a mental health stigma in Haiti, so many of her friends have never been able to process what happened.
This horrible memory, though, has also served as MacNicol's motivation.
"Because of what I experienced, I knew I wanted to give back and one day do something in the medical field," she said. "I never want to be in that situation again where I see people suffering and feel helpless."
In May, MacNicol graduated from Penn State Behrend with a bachelor's degree in nursing. She will work as an orthopedic nurse at Saint Vincent Hospital in Erie beginning in July.
The Behrend commencement ceremony served as the culmination of an eight-year journey for MacNicol, which began just one month after the earthquake when relief efforts expedited her pending adoption. Along with thousands of others, she was flown to the United States to move near Hershey with her adoptive parents, Roger and Stephanie MacNicol.
MacNicol had lived in the orphanage since she was 2 years old, when her birth parents passed away. Relocating to the United States gave her hope and a chance to pursue her dream.
In addition to her new parents, MacNicol gained siblings, Caitlin and Andrew, with whom she immediately connected. She attended Lower Dauphin High School, which has been ranked one of the top 100 Best Public High Schools in Pennsylvania by Niche.com.
With her new family, she gained the perfect mentor for pursuing a career in a medical field as her mother, Stephanie, worked as a family practitioner at the Penn State Milton S. Hershey Medical Center.
Before long, MacNicol settled on pursuing nursing as a profession, but she needed to find the place to do so.
"I visited Penn State Behrend, and I just fell in love," MacNicol said. "I knew right away that this was the place for me."
While MacNicol looks forward to making a difference and helping others as a professional nurse, the truth is that she's been making a difference for years.
In her time at the college, she was a member of the Joys of Nursing Club (JoNs), served as president of the DOPE photo club, was a member of THON and helped found the People of Penn State Behrend photo blog.
However, of all her accomplishments, MacNicol is most proud of the senior photography fundraisers that she held at the end of her junior and senior years. In exchange for a senior photo shoot, MacNicol asked participating students to donate only what they could afford, and she then passed on the donations to local charities.
"I love photography, and this is a way that I can use that talent to help people who are in need," said MacNicol, who gained her love of photography from her father Roger. "And it's a chance for students to get their senior pictures while giving back to the community."
In 2017, she held 12 photography sessions and raised $600 for the Second Harvest Food Bank of Northwest Pennsylvania. This year was even more impressive as she held 26 sessions and raised $1,260, which was divided equally between the Penn State Behrend Lion's Pantry, a student-run food pantry, and a family friend who is battling cancer.
"As a University, we pride ourselves on teaching students that the real measure of success is what you do to improve the lives of others. In that regard, what Mickie has achieved as an undergraduate is remarkable," said Chris Fox, assistant director of Civic Engagement and The Smith Chapel at Penn State Behrend. "To meet her, you get a sense of the compassion and kindness, but as you get to know her you also see that confidence and determination. She is really the total package, and she is only getting started."
Given that MacNicol has only been in United States since she was 15, she likes to think of Erie as home. It's one of the reasons she's so excited about her new job at Saint Vincent Hospital.
"The winters may be tough, but I just love it here," she said. "The summers are wonderful."
While MacNicol is excited for the future, she is not forgetting her past. Her Haitian roots are still a big part of her identity.
MacNicol, the youngest of her eight biological siblings, is the only one of that family to graduate from high school or college. She looks forward to returning to Haiti on mission trips to educate others about basic health techniques, so they will be better equipped to deal with tragedy should they find themselves in a situation similar to the one she faced eight years ago.
"I never imagined I would have accomplished so much here," MacNicol said. "When you give back, you gain so much more, and I want to keep giving back wherever I go."
Contact
Steve Orbanek
Marketing Communications Coordinator, Penn State Erie, The Behrend College