One-fourth of this year's list has connections to the college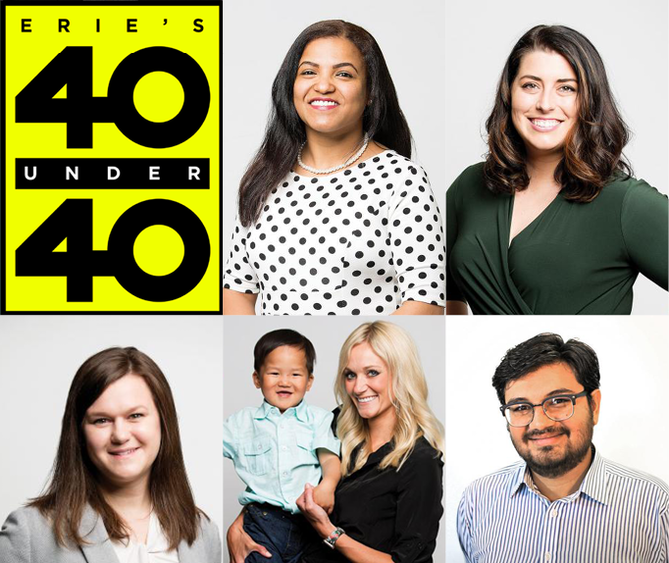 ERIE, Pa. — This year's edition of the Erie Reader's "40 Under 40," an annual showcase of the region's most dynamic and impactful young professionals, includes five representatives from Penn State Behrend – faculty and staff members who are making a difference not only on campus but across the broader Erie community.
The list, which was published June 20, also includes 10 Penn State Behrend alumni. No other institution is better represented.
"We're looking for people who show potential for great things, and who are taking every step to make sure those things happen," Nick Warren, managing editor of the Erie Reader, wrote in the forward to this year's list. "Whether it be through art, academia, technology or entrepreneurship, these are the people doing something to make our region bloom in new ways."
The Penn State Behrend honorees include:
— Walaa Ahmad, assistant director of educational equity and diversity programs. She coordinates mentoring programs and cultural activities for first-year students. She also promotes social and cultural awareness on and beyond campus. "I take my students with me when volunteering in the Erie community," Ahmad told the Reader. "It's a great opportunity for them to connect and network with community members."
— Caitlin Handerhan, executive director of the Public Policy Fund at Penn State Behrend. She teaches political science courses and coordinates policy-related panel discussions and debates. She also will edit the Behrend Policy Review, a nonpartisan resource for elected officials and other community leaders, when it launches later this year. "This is where I have chosen to make my home," Handerhan told the Reader. "I want as many people as possible to see all the great things Erie has to offer."
— Jessica Resig, director of eLearning initiatives. She designs online and hybrid courses for faculty members at Penn State Behrend and Penn State World Campus. As a volunteer with Designers for Learning, she develops instructional support programs and other free academic resources for adult learners.
— Sara Stahlman, extension leader at Pennsylvania Sea Grant. She has written field guides to aquatic invasive species that are used in more than 20 states and in two Canadian provinces. She also works on issues related to water quality, climate change and harmful algal blooms. "Anyone who lives, recreates or works in Erie has the power to make small and simple choices that together make a huge difference in the overall health and vitality of our beautiful region," Stahlman told the Reader.
— Arpan Yagnik, assistant professor of advertising. His book "Creative Aerobics: Fueling Imagination in the 21st Century" expanded a 2016 TEDx talk at Penn State Behrend. "Action inspired by creativity is my mantra," he told the Reader. "Creativity is a liberating force that enables an individual, community or city to unleash its full potential by defeating fear."
The Erie Reader's "40 Under 40" feature highlights the diverse ways Penn State Behrend faculty and staff contribute to the success of both the college community and the larger Erie region, Chancellor Ralph Ford said.
"We see firsthand the impact our faculty and staff have on our students' lives," said Ford. "It is particularly rewarding, however, when that is recognized by the community. The influence these young professionals exert, both in academics and their active engagement in research and community partnerships, is an essential component of the work that is driving Erie forward."
Contact
Robb Frederick
Assistant director, news and information, Penn State Behrend