Four universities, including Penn State, provided support for entrepreneurial project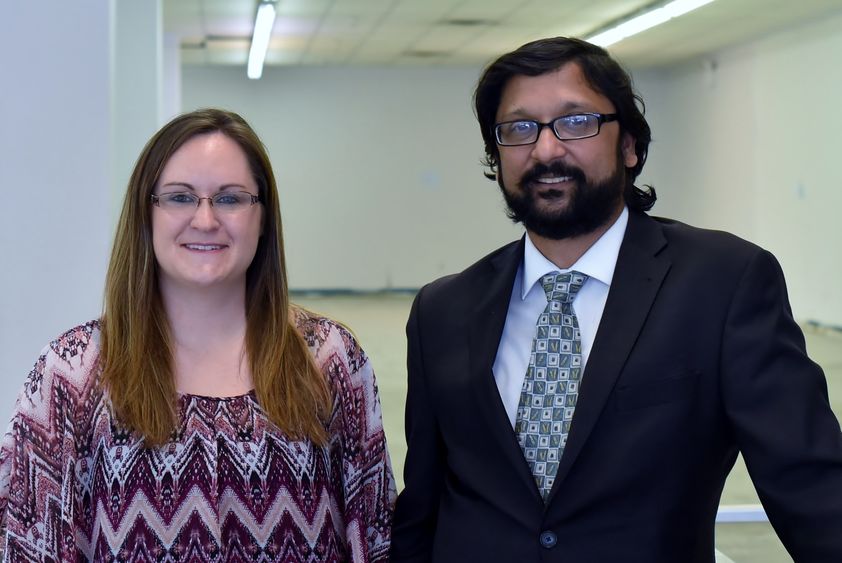 ERIE, Pa. — A triple-decker chicken-salad sandwich at Erie's Woolworth store once cost just 70 cents. A Coca-Cola cost a dime.
The lunch counter was often the most crowded spot in the store, which also sold curtains, cookware and tropical fish. It makes sense, then, that the Urban Oasis Project, which has leased 5,600 square feet of former Woolworth space, has a plan to sell food there. They are calling the new business the Oasis Market.
The Urban Oasis Project was created by Faith Kindig and Erie attorney and TEDxErie organizer Jonathan D'Silva, who saw a need for a year-round, indoor farmer's market in Erie's downtown. Their State Street space sits within one of seven Erie food deserts — areas where at least a third of all residents live more than a mile from the closest grocery store.
Food deserts complicate life in what tend to be low-income, minority neighborhoods, where residents often lack access to reliable transportation.
"The people who live near here don't have many options when they shop for food," Kindig said. "Some have to walk, so they go to Dollar General, or to Rite Aid. They can't buy produce at those stores, so their diet is almost entirely canned goods."
The Oasis Market will offer a healthy alternative: Fresh-picked corn, Honeycrisp apples, strawberries, raspberries and lettuce, sold directly from the farmers who grew it. Additional space will be rented to local crafters and juice-makers.
"When the farmers we work with were children, their parents and grandparents were always driving into the city to sell their produce," D'Silva said. "There was a structure for getting food from local farms to your table. We've lost that, because of the commodification of food. But maybe, working together, we can bring some of it back."
Kindig and D'Silva met at Penn State Erie, The Behrend College. She was a student in the Black School of Business, and he was a guest speaker in a class taught by David Causgrove, then a lecturer in marketing.
Causgrove had mentored Kindig on an earlier business venture, Erie Sproutz, a planned community garden, marketplace and hydroponics site. He helped her secure funding through Ignite Erie, a partnership of Penn State Behrend, Mercyhurst University and the Erie County Gaming Revenue Authority. The initiative has invested more than $1.5 million in new-product development, local "maker spaces" and entrepreneurial support.
The initial funding for the Oasis Market was crowdsourced: Kindig and D'Silva raised more than $6,000 in a three-month GoFundMe campaign. In June, they got a $200,000 boost from the Erie Community Foundation. That money will be used to purchase lighting and refrigerators, and to cover the cost of two employee salaries.
Ignite Erie provided additional support through its funding of the Northwest Pennsylvania Innovation Beehive Network. Beehive sites at Penn State Behrend, Edinboro University of Pennsylvania, Gannon University and Mercyhurst University offer coordinated support and services to entrepreneurs and startup companies. Each idea lab specializes in different aspects of business or product development; at Penn State Behrend, the Innovation Commons provides access to engineering and design experts and rapid prototyping of new products.
Kindig and D'Silva received support from each of the four beehive sites. The Innovation Commons staff at Penn State Behrend linked Kindig to business developers and attorneys who helped her refine the idea for Erie Sproutz. A team of students in the Black School of Business developed a marketing strategy for the marketplace component of the project.
An Edinboro student produced a video about the Oasis Market, and a communications class at Mercyhurst coordinated a public-relations campaign. Gannon's Small Business Development Center assisted with the business plan and financial projections and is providing customized help for vendors who will rent space in the market, which is expected to open this fall.
The guidance from the beehive sites has helped Kindig and D'Silva through what can be a difficult period for new business owners — the final stretch before the doors actually open.
"That support has been instrumental," Kindig said. "There is so much to do when you're launching a business, and a lot of it was new to us."
"It accelerated what we could do," D'Silva said. "The resources are there, so why reinvent the wheel?"
Contact
Robb Frederick
Assistant director, news and information, Penn State Behrend