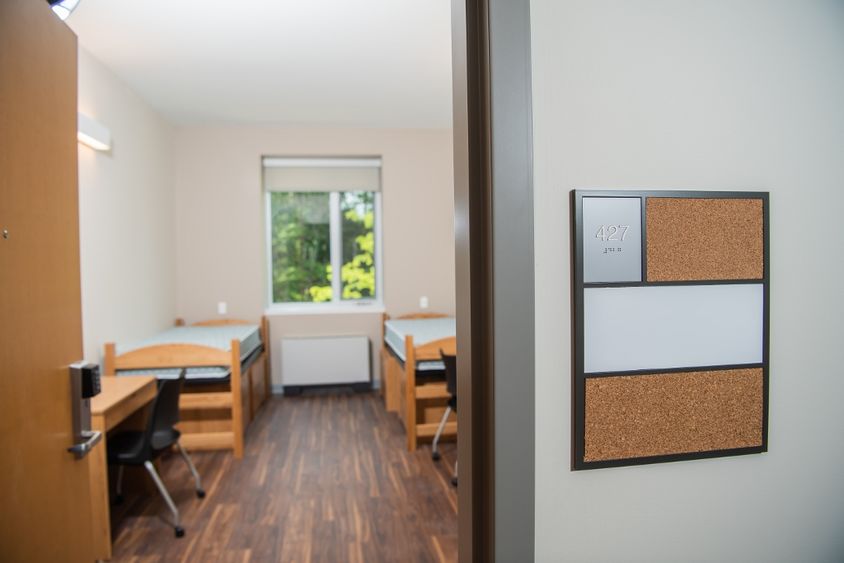 ERIE, Pa. — When the speeches ended, the dedication celebration for Penn State Behrend's Trippe Hall moved, as parties so often do, to the kitchen.
"The first goal of this building is to provide Behrend students with safe, comfortable, modern rooms that they look forward to returning to each day," Chancellor Ralph Ford said. "The second goal is to get them out of those rooms and interacting with each other. A community kitchen can help with that."
Trippe Hall's kitchen is a key feature of the four-story, $28.4 million building. The new residence hall — the 19th at Penn State Behrend — is home to two intentional living-learning communities, where students with common interests can interact in both formal and informal settings: the "Treehouse" wing, for students who are committed to sustainable living, and the Global Boarders program, for international students and U.S. students with an interest in international business.
Fifty students have enrolled in the Global Boarders program, which will feature programming from the Black School of Business. Academic support will include in-house advising, lectures and language seminars; cultural opportunities will include house concerts, watch parties for international sporting events and group dinners featuring world cuisine, cooked in the Trippe Hall kitchen.
"Students are looking for opportunities to build intercultural competence," said Madlyn Hanes, vice president for commonwealth campuses at Penn State. "The ability to work and live with people who have been shaped by different beliefs and experiences is an invaluable skill, and graduates who have that skill will be an asset not only to their employers, but to our broader community."
Trippe Hall also brings a new option for student housing at Penn State Behrend: Most of its rooms are oriented for double occupancy, as in a traditional residence hall, but the restrooms and showers, which are clustered in each wing of the building's four floors, are designed for individual use. That provides more privacy for residents.
Construction of the 251-bed hall began in late 2016. The project generated more than $5.5 million for local construction companies, which managed the roofing, paving, excavation and electrical work, and an additional $9.7 million for other companies in western Pennsylvania, which added tile, fire protection and interior work.
With the addition of Trippe Hall, Penn State Behrend can now house nearly 2,000 students on campus.
Contact
Robb Frederick
Assistant director, news and information, Penn State Behrend