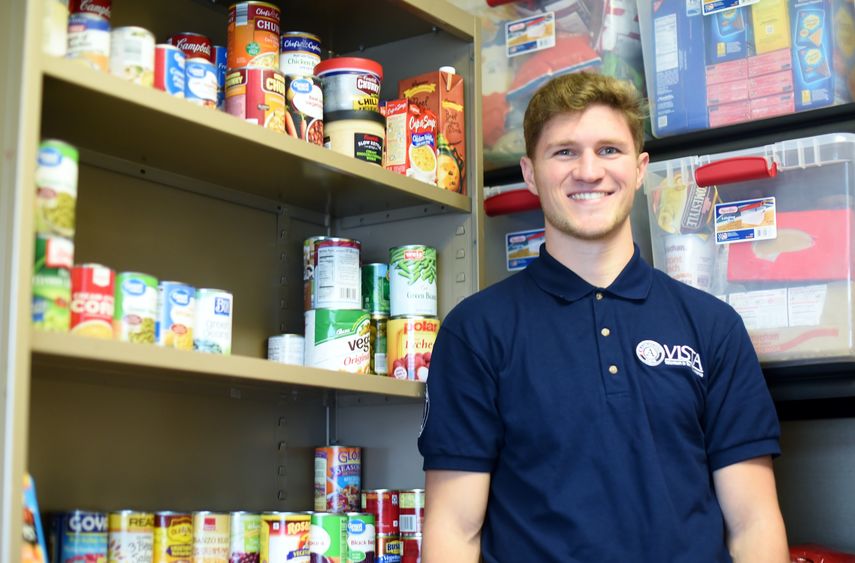 The ramen diet has long been a low-budget college option, chosen more for affordability than for any nutritional value. For many students, however, it's a necessity, rather than an opportunity to cut corners.
A full 20 percent of students at four-year colleges do not have sufficient access to safe and nutritious food.
"People always think, 'Oh, they have enough money for college, so they should have enough money for food,'" said Rob Felger, an AmeriCorps VISA member currently working as a food security liaison at Penn State Erie, The Behrend College. "But it does not always work like that."
As part of his year-long assignment at the college, Felger is managing the Penn State Behrend Lion's Pantry. Like the University Park student pantry, which opened in 2014, the Lion's Pantry provides free access to healthy food to any Behrend students who are experiencing food insecurity.
The service is anonymous. Students simply use their Penn State ID to fill out a form on sites.psu.edu/behrendlionspantry/ and request a confirmation number. No questions are asked.
"This can be a bit of an embarrassing issue, so anonymity is huge," Felger said.
The program also supports students' academic performance. "When you're worried about where your next meal is going to come from, it's hard to focus on studying," Felger said. "Being able to eat nutritional meals helps students succeed in the classroom."
The Behrend student pantry opened in February. Since then, it has served 86 students. Felger fills more than 12 orders a week, or roughly 50 every month. The food is donated or purchased through grant funding and distributed at Smith Chapel. Food also is available during the summer months.
By July, when his assignment ends, Felger hopes to be distributing 15 orders every week. He also wants the program to be financially sustainable, so the college's next AmeriCorps VISTA member will only need to focus on the structure.
For that to happen, however, Felger needs the help of others. To see a list of items that can be donated to the Lion's Pantry, contact Felger at [email protected].
Tax-deductible financial contributions also are accepted. Donations may be sent to Penn State Behrend Lion's Pantry, c/o Kathryn Buesink, Development & Alumni Relations, Logan House, 4215 Station Road, Erie, PA 16563-0107. Checks should be written to "Pennsylvania State University" with the designation "Lion's Pantry" in the memo line.
Contact
Steve Orbanek
Marketing Communications Coordinator, Penn State Erie, The Behrend College