Public lectures, discussions, and student-panel talks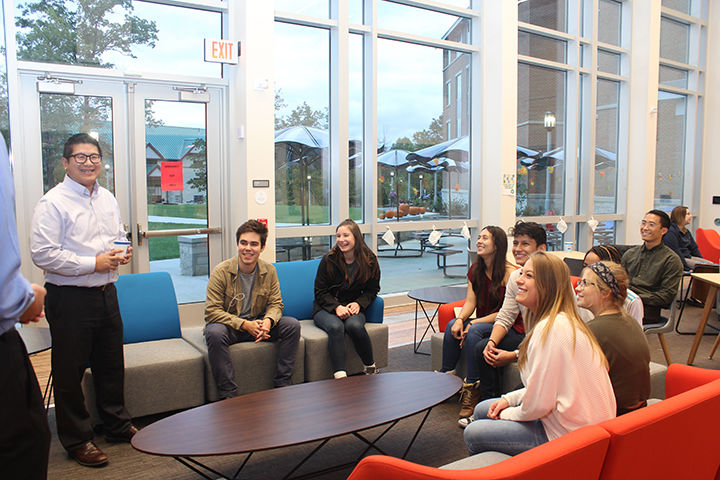 ERIE, Pa. — From their hilltop campus home, Global Boarders can see the world.
Global Boarders are a subset of Penn State Behrend students who have chosen to join an internationally focused living-learning community located on one floor of Trippe Hall, a $28.5 million residence hall opened in August 2018 that sits at the campus' highest elevation. In Trippe, Global Boarders are sharing experiences that extend beyond the classroom in an atmosphere enriched by special academic and out-of-classroom opportunities.
Global Boarders' academic advantages are provided by the Black School of Business and include in-house advising; group discussions; viewing of world events; lectures and seminars; house concerts; and world-cuisine house dinners. Students in any major are welcome to join Global Boarders; the 50 current members are split almost evenly between international and domestic students.
"Global Boarders is Penn State Behrend's celebration of the students who have an international perspective, the students who want to increase their international experiences, and our faculty members who have expertise in international travel and working abroad," Kelly Wertz Shrout, associate director of Student Affairs, said of the new community. "Student learn from each other and begin to think about creating new international experiences for themselves."
Global Boarders' residential experience is helping students to create deeper bonds with their classmates, added Jill Forsman Fox, assistant director of Residence Life.
"It's exciting to hear students make plans to go visit each other's homes over breaks and see them making meals together in Trippe Hall's community kitchen," Fox said. "Food has become a popular way for students to share their culture."
Each semester, Global Boarders students choose a geographical region of focus. China was the focus area in fall 2018; this semester the students and faculty turn their attention to the Mediterranean. A public lecture series on the culture, history and contemporary issues of the region is open to all Behrend students and the Erie community; the series kicked off with a late-January discussion of Italy's rich cultural diversity led by John Champagne, professor of English and part-time resident of Perugia, Italy.
Four public events remain. All will be held on Wednesdays at 6 p.m. in Trippe Hall:
Feb. 6: "Our Journeys: Learn from Our Travel Successes and Mistakes," a student panel moderated by Lena Surzhko-Harned, assistant teaching professor of political science. Panel members will be Katie Bowser, a senior international business major from Tyrone, Pennsylvania; Antigoni Kotsiou, an applied clinical psychology graduate student from Thessaloniki, Greece; Eden Safar, a senior political science major from Monroeville, Pennsylvania; and Natalie Szalajko, an MBA student from South Bend, Indiana.
Feb. 20: "The Refugee Experience," a discussion with Dylanna Grasinger, director of the United States Committee for Refugees and Immigrants, International Institute of Erie (USCRI- IIE).
March 13: "Turkey and North Africa: The Cultural Crossroads." Kilic Kanat, associate professor of political science, will talk about Turkey's historical relationships with its neighbors and importance to the geopolitics of the region.
March 27: "Iberian Peninsula: Historical Roots of Culture and Language." Laurie Urraro, assistant teaching professor of Spanish, will describe regional variations in language and culture.
Applications for the 2019-20 Global Boarders program are being accepted now; current and incoming Penn State Behrend students can use the online application to apply for inclusion in next year's program. For additional information about this living-learning community, visit behrend.psu.edu/globalboarders.