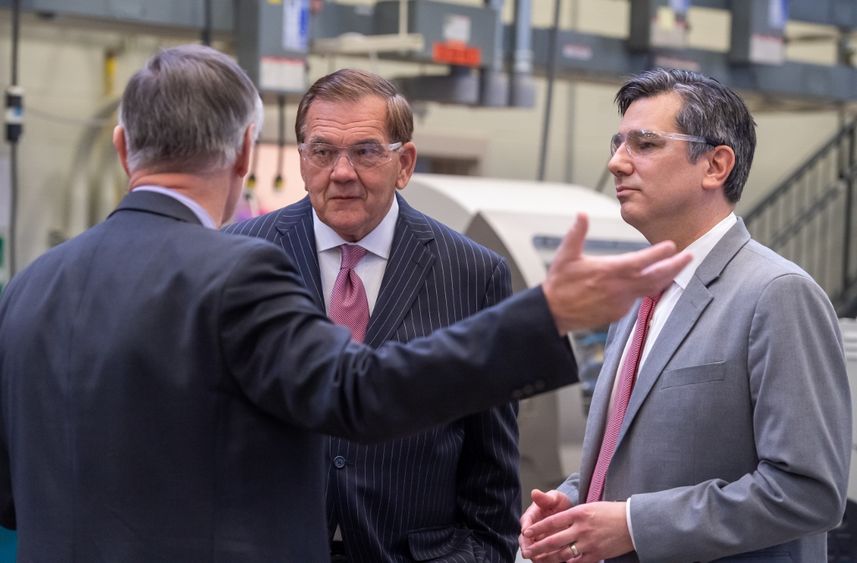 "Government is about tomorrow. Decisions that governments make today will affect tomorrow. To the students on campus, I say, 'You have a lot more tomorrows than I do. If you want to change the nature of the debate, register. Be involved. Be more engaged.' Voting is not a privilege. It's a responsibility of citizenship."
— Former Gov. Tom Ridge, the first secretary of the U.S. Department of Homeland Security, during a visit to Penn State Behrend on Feb. 22.
Ridge, an Erie native, served two terms as Pennsylvania's governor and six terms in the U.S. House of Representatives. In the wake of the Sept. 11 terror attacks, he was appointed the first secretary of the U.S. Department of Homeland Security. Today, he is chairman of Ridge Global, which focuses on cybersecurity, international security and risk management issues.
Ridge visited Penn State Behrend to see the Jack Burke Research and Economic Development Center and the college's Knowledge Park, a technology complex that is home to 20 companies and more than 500 employees. As governor, he was instrumental in securing state funding for both projects.
In Burke Center, Ridge toured Innovation Commons, an idea lab where students work with entrepreneurs. Their projects have led to seven patent applications.
"To see them interacting with the enthusiasm around innovation, with the enthusiasm around creation, with the enthusiasm of, 'Hey, we were given a problem to solve. Others couldn't solve it, and we did. And we did it as students,' that's got to be not only a prideful moment, but an inspiring moment, and an encouraging moment for those students," he said. "It's one thing to talk about it, but to have an opportunity to actually experience it, and to point to an outcome and say, 'We did that' … well, that's a big deal."
While on campus, Ridge met with representatives of the School of Science, the School of Engineering, Pennsylvania Sea Grant and Presque Isle State Park to discuss opportunities for Great Lakes-related research.
"We have a responsibility to preserve the environment and make sure that the generations that succeed us can enjoy it," Ridge said. "What we inherit we have to at the very least preserve, if not improve. The research we're talking about will help us meet that obligation for the next generation."
To hear more from Ridge — including his perspective on the party-first politics of the new Congress — listen to the latest installment of "Behrend Talks," the monthly podcast and radio show from Penn State Behrend Chancellor Ralph Ford. The new episode, and an archive of past programs, which are broadcast on WPSE AM 1450/FM 107.1, is available at behrend.psu.edu/behrendtalks.
Contact
Robb Frederick
Assistant director, news and information, Penn State Behrend