Nearly 40 students attend Penn State Behrend outreach event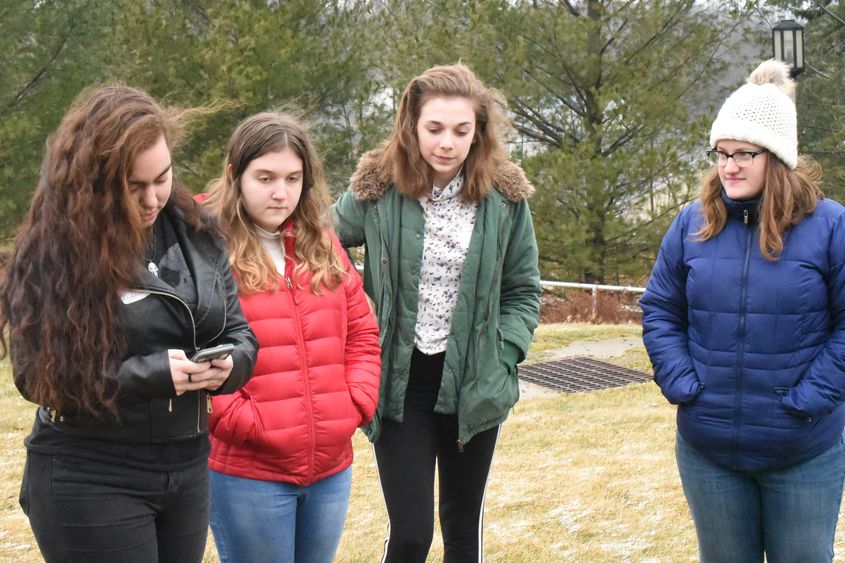 ERIE, Pa. -- Need to find the nearest coffee shop? Just use your phone's GPS system.
Need to find the points for a fuel pipeline? That's a bit trickier. Participants in Penn State Behrend's Women in Technology program learned that last week.
Nearly 40 girls from six different school districts took part in the program, which was held March 22 and sponsored by the college's Youth Education Outreach office. Several companies, including National Fuel Gas Co., Erie Insurance, TechnipFMC, and Wabtec Corp., hosted activities designed to introduce students to careers that are made possible by majoring in computing or information technology.
As part of National Fuel's activity, students worked with employees to collect GPS points in the same way the company does. The one big difference: the students used their phones while National Fuel employees used Arrow Gold Global Navigation Satellite System units.
"It was a really, really stark difference," said Claire Dodds, a sophomore at North East High School. "Theirs' was just so much more precise, which is shocking because you usually think a phone GPS is going to be perfect."
After collecting the GPS points, students compared their data with the same data collected by National Fuel. While the points were in the same vicinity, the students' data was far more scattered than National Fuel's.
"The GPS system we use picks up multiple signals from the satellite, more than what a phone picks up," said Amy Simonsen, a geographic information systems manager for National Fuel. "If you're just trying to get to Starbucks, a phone works fine, but if we're putting in a pipeline, we need to be much more accurate."
The GPS mapping activity was designed to illustrate one of the diverse career fields available to students. The activity resonated with several students.
"People get a set idea of what these careers look like and then you see something like this (activity), which is totally different," said Tori Schwartz, also a sophomore at North East High School.
The activity might have pinpointed a new career path for the students.
"There are still not enough women working in technology, so this is really an exercise to broaden their knowledge and show them what's out there," Simonsen said. "Most girls in 10th grade do not know what they want to do yet, so a day like this is key because it gives them options."
Contact
Steve Orbanek
Marketing Communications Coordinator, Penn State Erie, The Behrend College