40-plus students attend Penn State Behrend event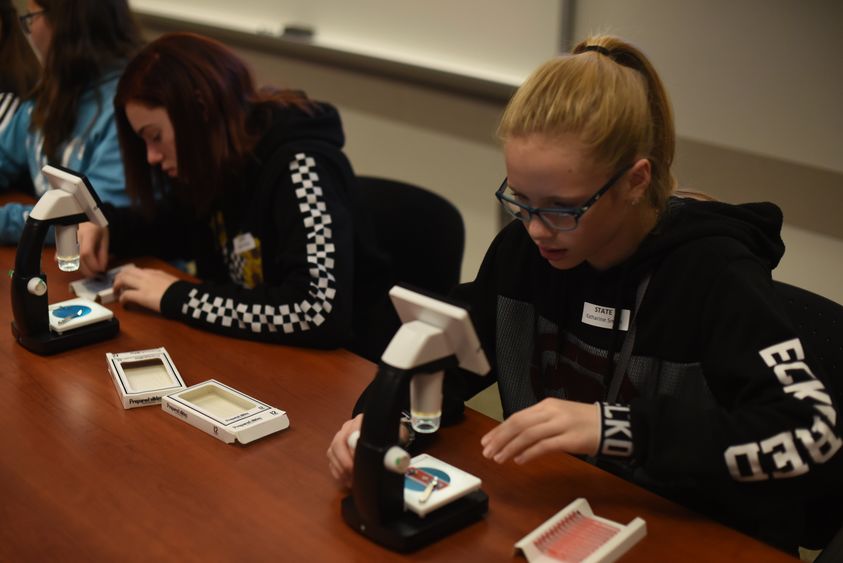 Katharine Smith had used a microscope before, but not like this. The Youngsville School District seventh-grader peered closely into the digital LED microscope, observing a butterfly wing.
"There's just so much definition," Smith said. "This is like high-tech, and it's really cool to be able to see all these details."
Smith was using the microscope as part of 21st Century Kids, held Thursday, Oct. 24, at Penn State Behrend. The program brings youth from rural populations to the college, allowing them to experience a college setting and participate in hands-on STEM workshops taught by Penn State Behrend faculty members and leaders from local STEM-focused businesses. The program has been held twice annually since the spring of 2007. More than 40 students from the Youngsville School District attended this fall event.
During the microscope activity, attendees observed everything from animal hair to insect abdomens. The microscopes came equipped with digital LED screens, allowing the students to hone in on the details of the subject they were viewing. Microscopic scales, hairs, membranes and bacteria were now visible.
"You can actually see what these cells are made of, and it's really cool," said Alexxa Rieder, also a seventh-grader from Youngsville, as she focused the microscope's binoculars on scales from a snake.
The microscopes even helped illustrate science in some unconventional ways. For instance, Smith decided to take a close look at her hand.
"I was able to zoom in and see dead skin cells that I had no idea that I even had," Smith said. "It was kind of weird, but it was so interesting, too."
As part of the day, 21st Century Kids attendees also participated in a series of activities led by TechnipFMC, a global oil, gas and energy company. In one activity, they created lava lamps, which provided both a good illustration of STEM principles and a nice memento for students to take home.
For some in attendance, 21st Century Kids marked their first time visiting a college campus.
"It's really nice to be able to come here and see everything that's out there," Smith said. "I think it makes us all not oblivious to the world around us, which is why it's nice to be able visit a college like this."
Contact
Steve Orbanek
Marketing Communications Coordinator, Penn State Erie, The Behrend College