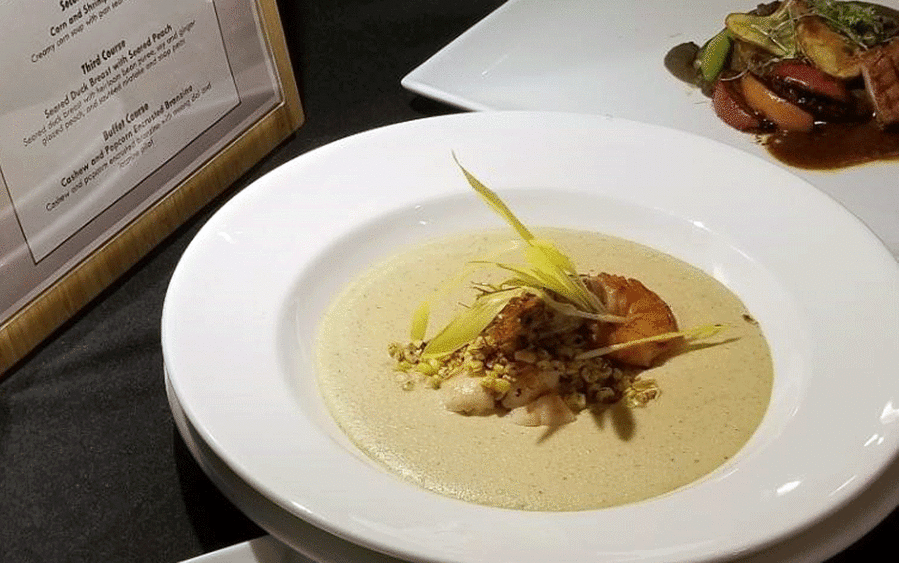 UNIVERSITY PARK, Pa. — Two teams of Penn State chefs earned medals at the 25th annual American Culinary Federation (ACF) culinary competition, held at the University of Massachusetts Amherst on June 13 and 14.
For the competition, each team was given a market basket of mandatory ingredients and tasked with preparing a three-course menu, plus a buffet dish, using those ingredients. Teams had an hour to submit a menu, then had to prepare and plate their dishes in three hours.
Penn State's Team D brought home a silver medal for their dishes, which included crispy pork belly cassoulet, poached branzino (European sea bass) fillet with crispy maitake mushrooms, floating island with peaches, and a buffet course of pan-seared duck magret on a bed of barley pilaf.
Team D's members included:
Chef Stefan Gawlowicz — South Food District
Chef David Anderson — Pollock Dining Commons
Jane Bartley — Bryce Jordan Center
Tyler Sedlock — South Food District
Team Q, also from Penn State, won a bronze medal — missing silver by just half a point — for its creations of arugula salad with raspberry vinaigrette, corn and shrimp soup, seared duck breast with seared peach, and a buffet course of cashew-and-popcorn-encrusted branzino.
Team Q's members included:
Adam Peters — West Food District
Bryan Richner — West Food District
Jeff Smith — Penn State Behrend
Nate Fox — Penn State Berks
"The teams did an amazing job representing Penn State," said Mark Kowalski, executive chef for Penn State's Culinary Support Services. "They not only achieved excellent scores during the ACF competition, they also learned a great deal — ideas they'll be able to bring back to campus for serving our student guests."