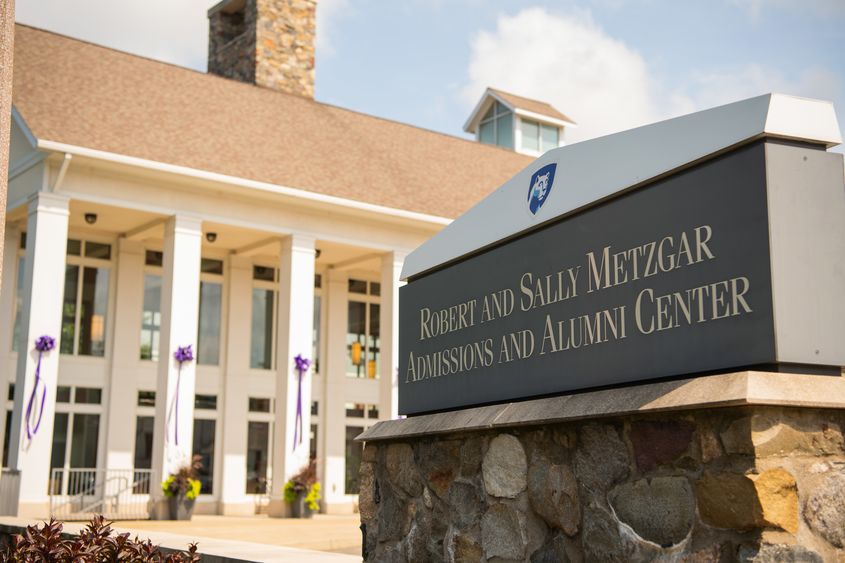 Sally Nelson Metzgar, a longtime supporter of Penn State Behrend and its students, died July 19 at the age of 83. Her husband, Bob Metzgar, was at her side.
Sally Metzgar was a former model who often appeared in the West Penn Power family magazine. She worked at Bell Telephone and at the U.S. Navy's Ordinance Research Lab at Penn State. She devoted much of her career to North Penn Pipe and Supply, where she served in various roles from 1977 until her retirement in 2009.
Sally Metzgar enjoyed gardening, genealogy and reading. She was a member of the Blue Stocking Club, the Antique Study Club and the Warren County Historical Society.
She particularly enjoyed meeting with Penn State Behrend students, including recipients of the Metzgar Leadership Scholarship. The program supports six students every year.
"Sally was a warm, nurturing person," Penn State Behrend Chancellor Ralph Ford said. "She had a genuine interest in our students and their stories, and she always believed they could succeed."
Sally and Bob Metzgar's philanthropic support of the college and Penn State dates to 1972, when they first donated to the Levi Lamb Fund, which provides scholarships and other support to more than 800 varsity student-athletes.
The couple also has provided funding for the Energy and Fuels Research Center, the School of Theatre, WPSU-TV and the Four Diamonds Fund at Penn State Children's Hospital.
At Penn State Behrend, the Metzgars have supported athletics programs, the Young People's Chorus of Erie and a variety of scholarship opportunities, including the Metzgar Leadership Scholarship. Their 2008 gift of $2 million enabled construction of the Robert and Sally Metzgar Admissions and Alumni Center – the two-story, 14,028-square-foot "front door" of the campus.
Metzgar Center is a central, accessible facility that bookends students' time on campus. It houses the admissions, financial aid, alumni relations, bursar's and registrar's offices.
"Students need different forms of support at different points in their college experience," Ford said. "Bob and Sally Metzgar have been intentional in providing resources and promoting opportunities at every step in that journey."
The couple's focus on student engagement extended to the design of Metzgar Center: Penn State architecture students created sketches for the building, and several of the elements they proposed were incorporated in the final design.
"Metzgar Center immediately became the visual centerpiece of the campus landscape," Ford said. "It just as quickly became a hub for our students' experience here, from their first campus tours to their transition to the Penn State Alumni Association."
Robert Metzgar attended Penn State Behrend for two years before earning a bachelor's degree in business administration at University Park. He owned and was president of North Penn Pipe and Supply, a wholesale supplier of materials, goods and services to oil and gas exploration companies. Robert Metzgar is an emeritus member of the Penn State Board of Trustees and a current member of the Board of Directors for the Penn State Behrend Council of Fellows. In 1996, he was named an Alumni Fellow, and in 2012, he received the Distinguished Alumni Award, the University's highest honor for an individual.
In addition to her husband, Sally Metzgar is survived by their children, Kelly Metzgar and Kathy Lang, and their families. For a full obituary, or to view or sign the online condolence book, visit the Peterson-Blick Funeral Home.
Contact
Robb Frederick
Assistant director, news and information, Penn State Behrend