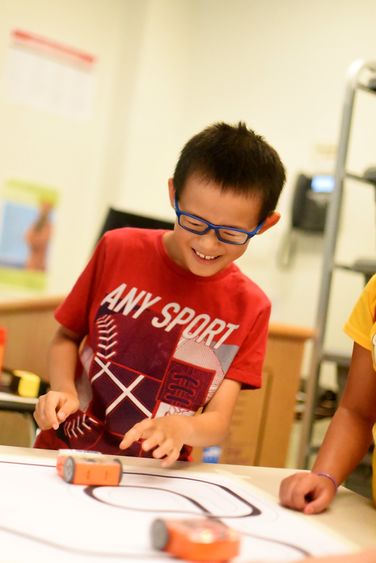 ERIE, Pa. — This summer, Shane Hoover-Buzzard, 10, sent a robot named Edison — about the size of a deck of cards on wheels — barreling toward a second, identical robot. The two robots engaged in a sumo wrestling match of sorts while Hoover-Buzzard cheered them on.
Across the room, teacher Paul Semrau helped two more students program a different robot.
"I think of my job here as a facilitator," he said. "These kids are in control of their learning."
Lots of learning happened in Semrau's first-floor classroom in the Kochel Center this summer. He led several Penn State Behrend College for Kids courses, in which students ages 8 to 14 designed and built robots and experimented with basic programming.
"College for Kids classes like robotics provide an opportunity for young students to do some early career exploration outside a school environment," said Sonya Smith, assistant director of Youth Education Outreach at the college. "It's providing enrichment opportunities and hands-on learning that many kids don't get in school."
The classes are always full, and often include students — like Hoover-Buzzard — who have taken the course before.
"I think the most was a kid who took it four times and then aged out," Semrau said.
Semrau, a seventh-grade science teacher in the Wattsburg Area School District, has been leading College for Kids robotics courses for nearly a decade. When he started the program, students worked from two boxes of robot parts and a few old laptops that Semrau lugged to campus each summer.
Today, kids in the robotics classes have access to equipment and computer software worth thousands of dollars.
The program has grown because of grants Semrau received to build up a robotics club at his own school, and because Penn State Behrend has been willing to share its robotics equipment and software. The college has loaned the College for Kids program several tabletop challenge boards that are used during the FIRST LEGO League regional championships it hosts each December.
The result is a robotics program that allows students to access sophisticated robots, equipment and software, Smith said.
"It's a pretty amazing opportunity when a young person can come in and get robotics experience for just $90 a week," she said.
Semrau has his own motivation for coming back to College for Kids every year: He has as much fun as the students.
"Robotics helps these kids learn how to be critical-thinkers and problem-solvers," he said, "and they surprise me every day with the things they come up with for these robots. It's amazing to watch them learn."
Contact
Robb Frederick
Assistant director, news and information, Penn State Behrend