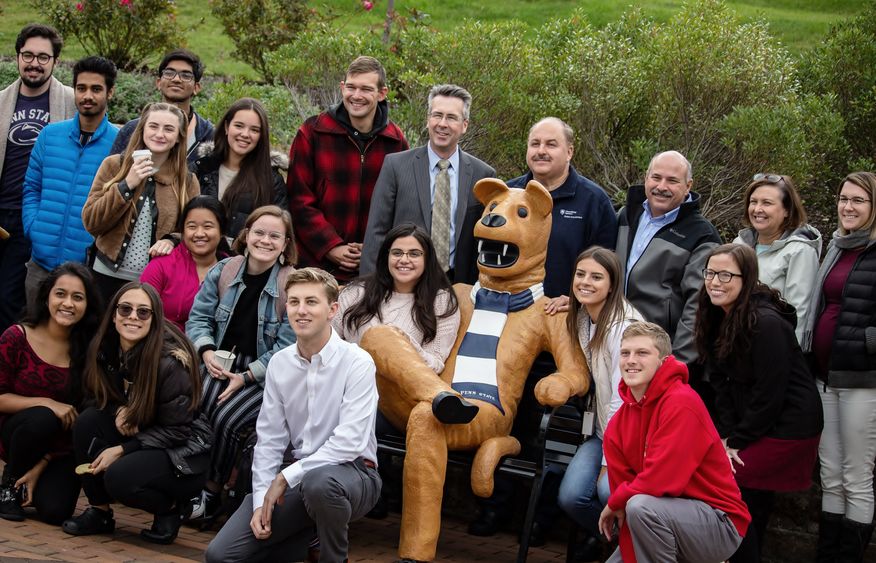 A familiar face has been sitting on a bench at the Breakwall near Penn State Behrend's Ben Lane Plaza: a life-size statue of the Nittany Lion mascot, legs crossed, with room on the bench for a friend.
The Student Government Association (SGA) had the sculpture installed to help foster Penn State pride.
"Projects like this not only showcase what student groups are capable of, but they also connect us to the broader Penn State family," SGA President JP Jarecki said.
Jarecki, a senior political science major, worked with a team of SGA members, including members of past SGA administrations, to purchase and install the sculpture.
The idea for the project began when a Behrend delegation traveled to a Council of Commonwealth Student Governments summit at Penn State Lehigh Valley and noticed a lion bench. The students saw similar benches during summits at the Berks, York and University Park campuses.
When SGA members learned they could order their own bench through Lehigh Valley, the process began.
The bench dedication also provided a Behrend history lesson.
"This plaza is known as Ben Lane Plaza," Chancellor Ralph Ford said. "Ben was a former administrator who was very devoted to our student body. It's a great testament to him that one of the most visible sights here on campus is our own Nittany Lion."
The plaza, located outside Bruno's Café, is a gathering place for students. In the weeks since the bench's installation, students have been posing with the Lion for selfies and club photos. Community members also are stopping for photos as they tour the Behrend campus with prospective new students, or with local high-schoolers who are attending campus events. Behrend alumni also are visiting the bench.
SGA leaders envision this trend continuing in the months ahead.
"I hope that this bench will begin a tradition on campus and will be one of those 'must sees' when alumni return to Behrend after graduation," Jarecki said.
Jaret Kelly, a junior marketing major at Penn State Behrend, is a marketing assistant in the college's Office of Strategic Communications.
Contact
Robb Frederick
Assistant director, news and information, Penn State Behrend