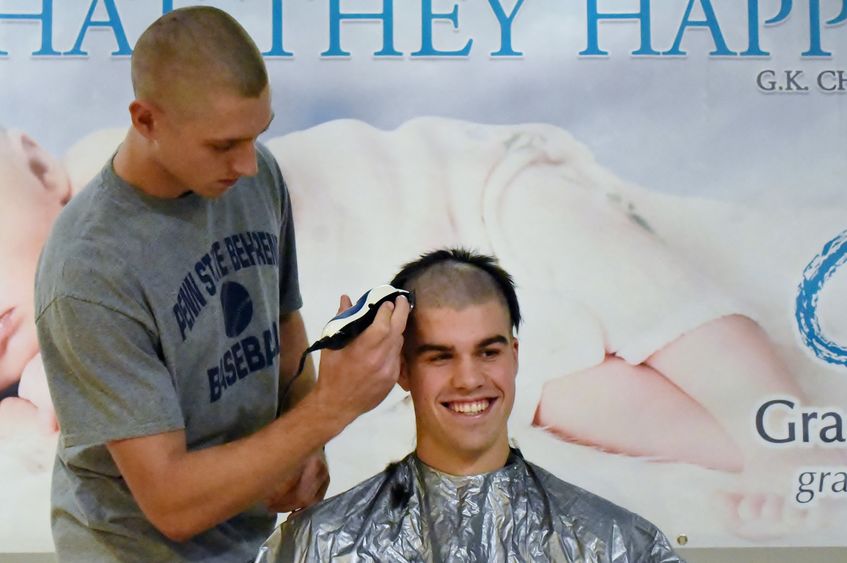 ERIE, Pa. — With the first pass of the hair clippers — a strip right down the middle — Hunter Jamison was all-in.
What choice did he have? He was on stage in Bruno's Café, tufts of cut hair piling in his lap. The rest of the Penn State Behrend baseball team had nearly fallen out of their chairs, they were laughing so hard.
It was meant to be a spectacle. The players had volunteered to shave their heads to raise money for Grady's Decision, an Erie nonprofit organization that supports families that have experienced a premature birth. The organization helps cover the cost of parking, meals and lodging when babies remain in the hospital.
"They're having fun, so people stop to watch," said Ryan Smith, who co-founded Grady's Decision with his then-wife, Katrina, after the death of their infant son in 2009. "But years from now, if they're sitting in the NICU and they're scared and they don't know what to do, maybe they'll remember this, and they'll know there are groups like ours that can help them."
That's likely to happen. One of every 10 U.S. babies is born prematurely, according to the Centers for Disease Control and Prevention. The rate has increased every year since 2014.
Grady Smith was born at 26 weeks. He had bleeding in his brain, and he struggled to breathe. His twin sister, Gianna, survived.
"As a parent, you are absolutely lost when something like that happens," Ryan Smith said. "You're in a fog, and you can barely function. And insurance has its limits: Health care doesn't pay for parking passes, or for the gas that gets you to the hospital."
Grady's Decision has raised more than $1.6 million, which is shared with nearly 250 families every year. The money from the baseball team's haircuts — roughly $2,800 this year — will buy gift baskets that will be delivered to NICU families on Christmas.
"We're raising some money, yes, but we're also raising awareness," Behrend baseball coach Paul Benim said. "These guys are 18, maybe 20 years old. Most of them haven't yet faced the kind of health challenge that upends your life. They might, eventually, and if that time comes, they'll be glad that, like them, people are willing to give a little bit of time and money to help a stranger out."
For Benim, however, this is personal: Ryan Smith played baseball for Penn State Behrend in 1998 and 1999. When Grady died, Benim was the first to arrive at the hospital. He and Smith prayed together, reciting Philippians 4:13.
Benim sees the haircuts as a way to give back, and to build camaraderie on the team. He's trying to create lifelong bonds, both on and off the field.
That network extends to Ryan Smith. Every year, the team cuts his hair, too.
"We've all been blessed in so many ways," said Jamison, an outfielder from Allison Park. "We're in college, and we're still playing baseball. We're healthy, and we have our whole lives in front of us.
"When you hear Ryan's story, and you hear about all the families he meets that need help, you have to do what you can," Jamison said. "So we cut our hair, and people stop and watch, because we look ridiculous. But maybe they leave here thinking about something bigger."
Contact
Robb Frederick
Assistant director, news and information, Penn State Behrend