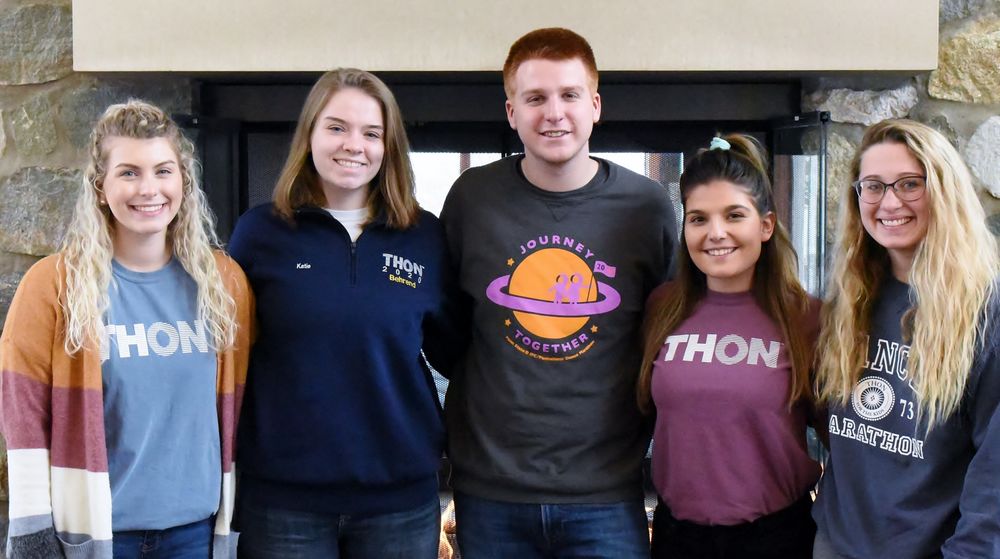 It's time to dance again — for the kids.
THON, Penn State's 46-hour no-sitting, no-sleeping dance marathon, takes place Feb. 21-23. More than 600 students will dance at this year's event.
Penn State Behrend will have five dancers — the most ever for the college — on the floor of the Bryce Jordan Center at the University Park campus this year, thanks to the fundraising efforts of the student group Behrend Benefiting THON. The students hope to surpass the record-breaking $57,155.67 they raised at Behrend in 2019.
"There is no point in breaking a record like that if you can't sustain the progress," said Jack Walker, the Behrend senior who leads Behrend Benefiting THON.
The Penn State IFC/Panhellenic Dance Marathon, or THON, is the largest student-run philanthropy in the world. Since 1977, THON supporters have raised more than $168 million, which funds research and has supported more than 4,000 families at Penn State Children's Hospital. The money is distributed by Four Diamonds, which pays 100% of all cancer-related medical expenses that are not covered by a family's insurance.
Before the event, THON dancers are matched with families that are supported by Four Diamonds. That often leads to lifelong relationships between families and volunteers, and support for the families long after THON has ended.
The Behrend students are regularly communicating with three families that will benefit from THON's fundraising efforts.
"THON adds a human face to it all by allowing us the opportunity to help actual families impacted by childhood cancer, firsthand," Walker said.
Those connections drive the students' commitment to THON, said Alexis Kobusinski, a senior at Penn State Behrend.
"I was able to become closer to our THON children and their families," she said. "I am so glad I could be a part of something bigger than me."
Behrend Benefiting THON has raised money through different campaigns since the academic year began, including a 46-hour, running and cycling marathon in the Reed Union Building.
"We had students running or cycling through the night, with sponsors paying for each mile," Walker said. "It drew a lot of attention and raised a lot of money."
This year's THON will be Walker's first as a dancer, though he has worked with the organization since high school.
"Every year, it's just electric," he said. "THON is always so exhilarating. My goal was always to dance as a senior because it would be the best way to finish my THON career — doing something not everyone gets to experience."
He and the other Behrend dancers — Kobusinski, Kathleen Murphy, Ashley Sharpe and Hunter Frazier — have been training to prepare for the marathon dance. All have cut caffeine from their diets.
"It's a mix of eating healthier, cutting out all caffeine and alcohol and making sure that each night we get eight hours of sleep," Walker said. "It's hard, but it's what we have to do."
Contact
Robb Frederick
Assistant director, news and information, Penn State Behrend