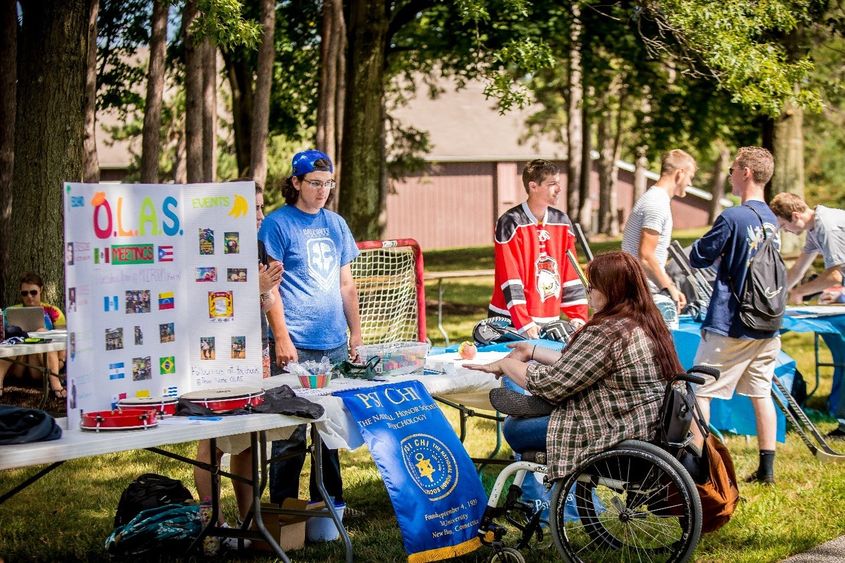 In the last five years, Paul Lynch, assistant professor of industrial engineering, and Shannon Sweeney, associate professor of engineering, have given student members of Penn State Berhend's Materials and Manufacturing Club more than 200,000 reasons to attend club meetings. That's the amount of scholarship dollars that students in the Materials and Manufacturing group have secured since the club's inception five years ago.
"Each meeting starts with a rundown of manufacturing job, internship and scholarship opportunities," said Lynch. "After that, we have a guest speaker from the manufacturing industry."
So, for a one-hour, once-a-month investment of their time, members get two of the most valuable things they can acquire outside of a college classroom – professional contacts and opportunities for hands-on experience. This, in addition to the chance to reduce their education costs.
It's no wonder the club has grown into one of the largest on Behrend's campus. It currently boasts 75 active members from a variety of engineering, business and science programs.
Though the COVID-19 crisis has put a hold on gatherings in person and a damper on face-to-face internship opportunities, it has not prevented the club from meeting regularly. Like many organizations, the group is now meeting remotely, using Zoom video conferencing software.
"We recently held our final spring 2020 general body meeting on Zoom," Lynch said. "While I think we would all prefer to be in the same room together, it was nice to see everyone, and the scholarships are still there. Students may as well take advantage of the extra time at home to apply to as many as they can."
With nearly 140 active student clubs and organizations at Penn State Behrend, the Materials and Manufacturing group is one of many that have transitioned to remote gatherings.
Meeting, and competing, virtually
In the Black School of Business, advisory boards, student clubs and professional organizations are meeting online now. A hidden benefit of the virtual format: It's easier to include guest speakers.
In March, the Finance Management Association Club welcomed Max Morrow, a 2018 Behrend graduate who now works as a credit facilities underwriter in the commercial credit department at FNB Corporation in Pittsburgh. He was able to meet with club members without making a two-hour drive up Interstate 79.
Music and vocal ensembles also are meeting online, with members contributing from across the country.
Athletic clubs and varsity sports teams are finding creative ways to stay connected, too. Men's soccer coach Dan Perritano is hosting weekly virtual runs, inviting alumni and students to go for a run (following all COVID-19 safety guidelines) and share a post-run selfie on Facebook.
New tools for student government
The Student Government Association (SGA) has fully embraced technology to stay in touch with its constituents.
"SGA has been hosting Student Town Hall meetings on Zoom, where students can ask questions and speak up about their concerns regarding both the COVID-19 response at the college and any other general issues," said Clark Tieman, coordinator of student leadership and development.
"Additionally, SGA hosted candidate debates to help students choose new SGA officers for 2020-21 and then ran a successful online election with a nice voter turnout," Tieman said.
LEB keeps bringing the fun
Behrend's resident party animals – the Lion Entertainment Board – have been doing their best to provide entertainment from afar.
"The LEB is posting regularly on all their social media channels, telling students about fun things they can do online for free, or encouraging them to send in photos of their Easter eggs, and such," Tieman said. "LEB also just had a very successful mail-delivery giveaway of succulent kits that has encouraged them to try more giveaways."
A Behrend student favorite will return in a new form: The LEB, Lion Ambassadors and Student Leadership and Involvement office are teaming up to sponsor a virtual bingo game for students on Zoom, using a third-party vendor. The event, which is scheduled for April 24, will feature hundreds of dollars in prizes that will be awarded to student participants.
On May 1, the final day of classes, LEB plans to host a virtual event with NatterDoodle, a counselor and artist.
"NatterDoodle will provide LEB with custom coloring sheets to disseminate to students, and then he will lead a color therapy session with participants via Zoom," Tieman said. "Students color along while NatterDoodle leads them through relaxation exercises and general discussion about stress management."
Contact
Heather Cass
Publications and design coordinator
Penn State Erie, The Behrend College