Penn State Behrend trailheads will remain open to the public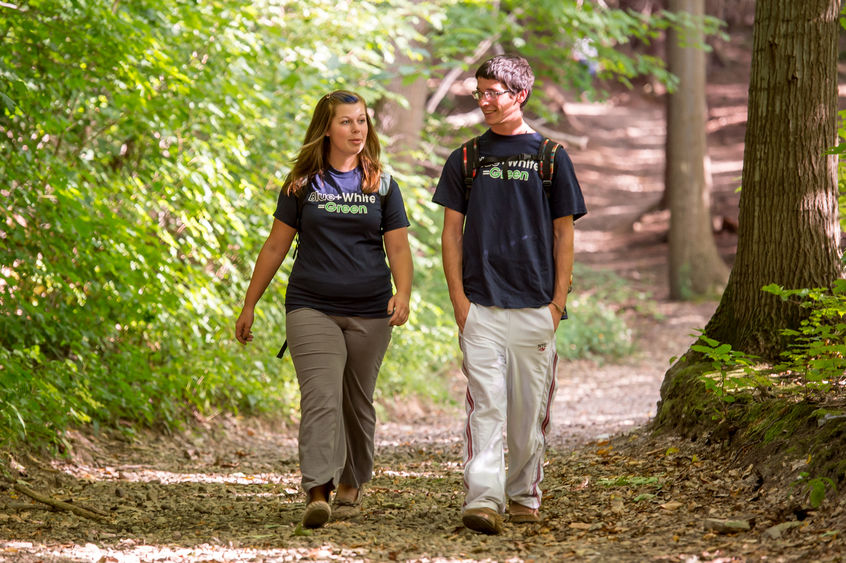 ERIE, Pa. — Construction crews resumed the final phase of a $690,000 trail-improvement project in Wintergreen Gorge on May 7, temporarily limiting access to the trail system from the Cooper Road trailhead.
Visitors will still be able to access the trails from two locations on the Penn State Behrend campus: Trailheads near Ohio Hall and the School of Science complex remain open, with ample parking nearby.
Work on the trail system halted on March 19, when Gov. Tom Wolf ordered all "non-life-sustaining" businesses — including most construction companies — to cease operations in order to slow the spread of the COVID-19 virus. Wolf began to ease those restrictions on May 8.
Penn State Behrend opened the newly expanded Cooper Road trailhead during the construction lull, providing access to the gorge during a period when other recreation options were limited.
"People are eager to be outside, particularly after having spent so much time in isolation, and Wintergreen Gorge has widespread appeal for those who want to engage with nature," said Sam Mason, the college's sustainability coordinator. "Our goal throughout this project has been to preserve public access to the gorge while protecting and enhancing the pristine natural environment for future generations."
More than 14 miles of trail cut through Wintergreen Gorge, a vast Natural Heritage Area that descends to Four Mile Creek. Many of those paths are informal, and developed over time, as hikers and dog-walkers stepped around wet areas, creating new side trails.
The trail-improvement project began in June 2019, with funding from the Pennsylvania Department of Conservation and Natural Resources, the Pennsylvania Department of Community and Economic Development, the Erie County Planning Department and Penn State. Crews widened and resurfaced an 850-foot trail near the Cooper Road access point, making it ADA accessible. They also expanded the Cooper Road parking area, creating space for 17 vehicles and addressing traffic and safety concerns near the trailhead.
Other improvements — including select placement of boardwalks over protected wetland areas — will decrease erosion, protect native plant species, and provide a more viable and sustainable area for wildlife.
Over the next two weeks, crews will complete the boardwalk sections, install signage and repair damage to landscaping near the Cooper Road parking area. The Cooper Road trailhead and parking area will reopen once that work is complete.
Contact
Robb Frederick
Assistant director, news and information, Penn State Behrend