Miller already has checked 20 of 45 sites off his list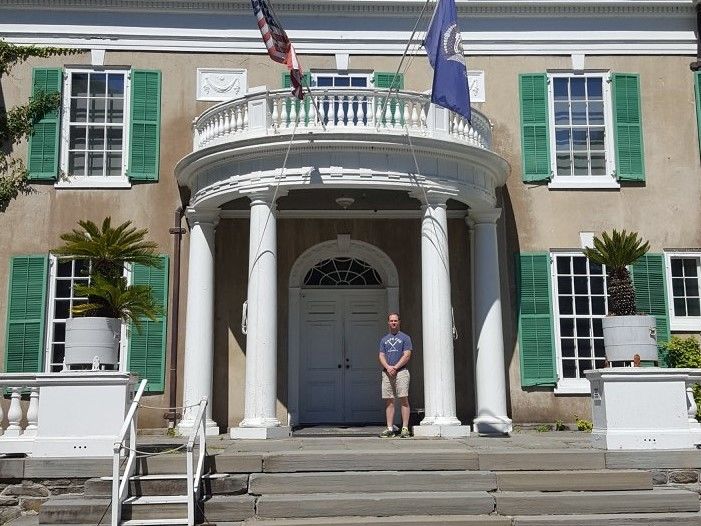 Some people make it a goal to visit every state or capital. Steven Miller, associate director of housing and food services at Penn State Behrend, is working on a more unique challenge: He's visiting the private residence of every U.S. president. He's already been to 20.
"Visiting presidential homes offers an insight into the private lives of individuals who had a profound impact on the formation and development of our country," said Miller, who graduated with a degree in history from Penn State Behrend in 2006. "The homes and grounds themselves show a progression of architecture and lifestyle through history, from the vast agricultural farmlands of the Founding Fathers to the urban presidents of today."
Miller began with a trip to President Dwight D. Eisenhower's home in Gettysburg – a detour during a visit to Gettysburg National Military Park.
"It evolved into an annual summer trip with my brother, a challenge to visit the private residences of past presidents, with the goal of visiting all 45," Miller said.
We asked Miller about the homes that have most impressed him.
Are presidents' homes public?
Yes. Most presidential private residences belong to the National Park Service and are open to the public for tours. Information on their locations and visiting information can be found on the National Park Service website, at nps.gov/findapark.
Do you plan vacations around visiting presidential homes?
I typically plan our itinerary around visiting both presidential sites and museums. Some of the most extensive collections of historical military artifacts are in museums located at the service academies, such as West Point or the United States Naval Academy, and often I will add these to our itineraries.
Thirteen presidents have homes in New York, Ohio or Virginia, so from here, where we live, creating a travel itinerary that takes you by a president's home is fairly easy.
What are some of the more famous homes you've seen so far?
Mount Vernon, George Washington's home; Monticello, Thomas Jefferson's home; Montpelier, James Monroe's home; and Springwood, which was Franklin Delano Roosevelt's home.
Have they surprised you in any way?
It is impressive to see how some of these homes are incredibly preserved, with original furnishings and furniture.
Which president do you most admire, and why?
My favorite modern president was Franklin Delano Roosevelt. He was elected at the height of the Great Depression, and through various public programs, he got the country back on its feet. He then led the nation through four years of World War II and was the only president elected to four terms in office. He also founded the March of Dimes, with the goal of finding a vaccine for polio.
What does history mean to you? Why is it important to study and learn about history?
I am always searching for a connection to the past, and visiting historical sites, whether presidential homes or museums, lets us see the tangible items that create those links. Visiting these homes is like stepping into the past. It's amazing to think about walking in the footsteps of some of the most influential people in our country's history.
Contact
Heather Cass
Publications and design coordinator
Penn State Erie, The Behrend College