Dec. 11 program will be socially distanced, and streamed online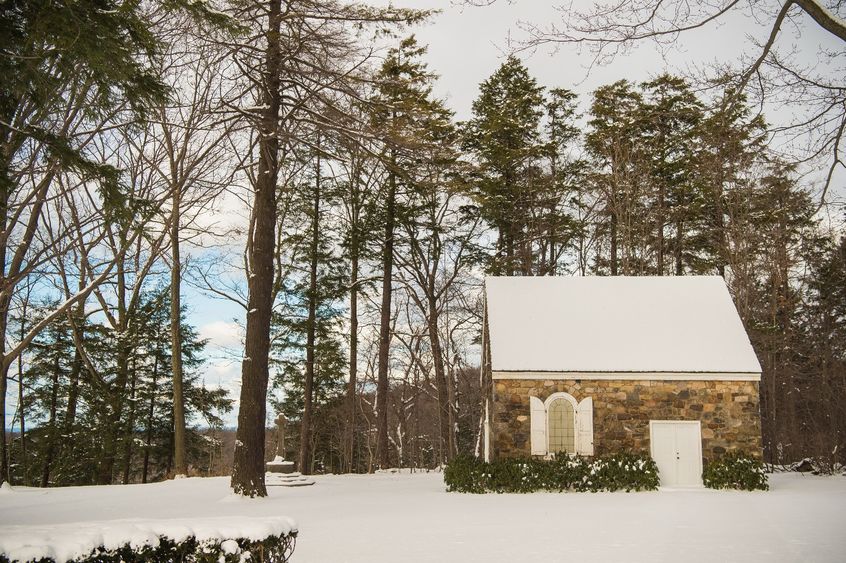 ERIE, Pa. — This year's Hanging of the Greens — Penn State Behrend's oldest tradition — will be a virtual event, broadcast from the Behrend Chapel in Wintergreen Gorge Cemetery. The Dec. 11 program will be streamed online at behrend.psu.edu/greens beginning at 7 p.m.
The program, which is sponsored by the Catholic Campus Ministry, the Protestant Campus Ministry and Student Leadership and Involvement, begins the holiday season at Behrend by honoring Ernst and Mary Behrend, whose 400-acre farm became the core of the college.
Each year, a small group of students, faculty members, staff and alumni gather at the chapel for a candlelit service. They sing Christmas carols and place a wreath on the doors to the mausoleum.
The tradition began in 1948, when T. Reed Ferguson, the administrator of what was then called the Behrend Center, placed a wreath as a favor to Mary Behrend, who had donated her family's farm to Penn State. She was present at the center's dedication, just two months before, but had since moved to Connecticut. She had asked Ferguson to hang an evergreen wreath to honor her late husband and son, who were interred at the chapel.
Ernst Behrend had been president of the Hammermill Paper Company, which operated on the shores of Lake Erie. He and his wife built Glenhill Farm as a respite from their industrial life: The farmhouse, carriage houses, studio and barn are still used by the college, which now has nearly 5,000 students.
The Behrends' son, Warren, died in 1929 while driving from Deerfield Academy to meet the family for Christmas. He swerved to avoid a school bus, which was being driven by a student.
"There is a lot to think about when you sit in that chapel, surrounded by others who feel a deep connection to the college," said Ken Miller, senior director of administration and student affairs. "It's an opportunity to pause and reflect on the meaning of what can be a hectic and hurried season, and to appreciate the generosity of the Behrend family, which has put generations of students on the path to something better."
Contact
Robb Frederick
Assistant director, news and information, Penn State Behrend